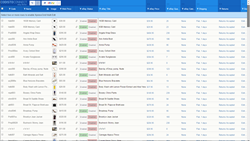 Codisto Connect is next generation eBay integration software that has been specifically developed to make setup fast and ongoing management simple.
Sydney, Australia (PRWEB) May 27, 2015
Kogan, Australia's largest pure online retailer recently chose Codisto Connect to integrate their 25,000 eBay listings.
"We are thrilled to be working with Kogan," Jonathan Pollard CEO, Codisto said. "They have intimate knowledge of the online retail space. Their decision to use Codisto Connect demonstrates the quality of our technology."
Codisto's new plugin auto-categorizes products into relevant eBay categories and utilizes a fully mobile optimized eBay sales template. Ongoing management is performed on a grid inside Magento and allows multiple product edits, even the entire catalogue, to be synchronized with eBay in a single click.
The software includes options for separate eBay prices, titles and descriptions as well as supporting Magento or separate eBay shipping rules. Inventory in both eBay and Magento is always up to date and eBay orders are synchronized with Magento. eBay is automatically updated with relevant shipping tracking data and sellers' feedback.
eBay is a critical marketplace for thousands of Australian online sellers that use Magento. Despite this, software integration options are limited.
"Magento partners have expressed frustration at the length of setup time and the difficulty of ongoing management found in alternative solutions," Mr Pollard said. "There are businesses not taking advantage of the huge eBay marketplace in Australia simply because they can't easily integrate with it. Codisto Connect is next generation eBay integration software that has been specifically developed to make setup fast and ongoing management simple. By making eBay integration easier for both Magento developers and Magento sellers we will be able to help many more Australian Magento businesses sell on eBay."