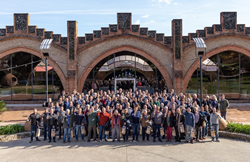 New York, NY (PRWEB) December 12, 2019
Raventós Codorníu, Spain's oldest producer of wines and Cavas with a history dating back to 1551, has announced that the renowned Cava producer Codorníu, the oldest Spanish winery to make sparkling wine using the traditional method, has signed a five-year agreement with more than 170 winegrape-growing families from the Penedès region to buy the production of selected 100% organic parcels, which add up to nearly 3,500 acres.
With this unprecedented milestone for the sector, Cataluña's oldest winery once again proves its commitment to viticulture and its conversion to organic farming.
"Our intention with these contracts is to consolidate our relationships with the winegrape growers and show that we consider them as part of our family, and that during the next five years, they can deliver their grapes to Codorníu worry-free," stated Ramón Raventós, CEO of Raventós Codorníu. "Furthermore, Codorníu is also firmly committed to working in a collaborative manner, giving access to all the knowledge and labor of our technical team to ensure the best quality is achieved" added Raventós.
Codorníu also understands the essential role that this collective work plays in ensuring the final quality of its Cavas, and has underlined the importance of working together in order to attain excellence from the origin.
At an event celebrating the agreement as well as the end of harvest, presentations were also made to put forward ideas for improvement, setting new goals and presenting initiatives aimed at reinforcing the great teamwork that has been carried out over the last decade between local winegrape growers and the winery. This undertaking was reflected in the great results obtained in the 2019 harvest.
Sergi Molinari, a winegrape grower from Penedès, summed up: "I feel very positive about the agreement, as this commitment between the growers and Codorníu ensures that we are working together towards a common goal, that the project has a future that benefits both parties." He added: "This agreement is a stake in our continued working relationship, giving us peace of mind and ensuring the prosperity of the sector."
About Raventós Codorníu
Raventós Codorníu is Spain's oldest producer of wines and Cavas and is a symbol of continuity, innovation and of remaining true to its origins. The company has five centuries of history (since 1551) and experience that combine tradition and modernity. This has resulted in the creation of leading wineries in the respective wine regions where they are located, capable of innovating and meeting the growing demand for exceptional Cavas and wines. With close to 7,500 acres of estate vineyards and 17 prestigious wineries spread across Spain, Argentina and California, Raventós Codorníu is one of the world's leading companies in viticulture and winemaking expertise.