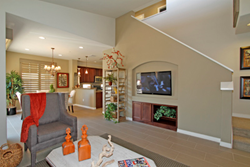 We are seeing a very active first few weeks of the year, perhaps even more than we had anticipated.
La Quinta, CA (PRWEB) February 17, 2016
Brad Schmett, Broker Associate with Luxury Homes by Keller Williams, today announced that the demand for affordable luxury patio homes has increased significantly as 2016 gets underway. Codorniz is reporting heavy investor interest and brisk sales as standing inventory decreases. Builder RJT Homes anticipated an active year and has commenced new constriction accordingly.
Currently, three new models are under construction from the Lantana and Sage designs. An additional four models are planned later in the season. At the moment, these seven homes represent the newest planned construction. The Lantana model with more than 1,600 square feet has proven to be one of the most popular styles. However, all models boast the light infused and open floor plan which brings the scenic desert landscape up close and personal. RJT Homes is well-known for pride of craftsmanship and sumptuous amenities that cater to the active, outdoor, California casual lifestyle.
Schmett recently commented, "We are seeing a very active first few weeks of the year, perhaps even more than we had anticipated. The luxury patio home market is sizzling right now thanks to the largest generation of retirees in United States history. Baby boomers are snapping up luxury retirement homes at an unprecedented rate and we do not see that slowing down anytime soon. Savvy buyers and investors are back in the game and actively purchasing homes."
Interest rates still remain low, and buyer-friendly financing packages are available for all of the latest Codorniz models. For more information or to schedule a private tour, contact Brad Schmett Real Estate Group at 47100 Washington Street, Suite 204 in La Quinta.
For more information on luxurious Codorniz of South La Quinta visit http://www.codorniz.net.
To find out more about investing in La Quinta, CA real estate visit http://www.laquintarealestateinfo.com .
About Luxury Homes by Keller Williams: Luxury Homes by Keller Williams – La Quinta, is an exclusive, elite and sophisticated group of real estate consultants raising the bar for service in the upper-tier La Quinta and Palm Springs area residential real estate market.