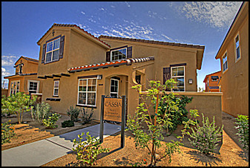 Everyone is talking about Codorniz and its incredible location close to SilverRock Resort.
La Quinta, CA (PRWEB) August 20, 2014
Brad Schmett, Broker Associate with Luxury Homes by Keller Williams today announced that top-quality construction of luxury patio homes at Codorniz coupled with attention-to-detail and a highly-coveted location are proving an unbeatable combination and creating a summer sales sensation. A low starting price of $269,000 makes Codorniz one of the hottest real estate bargains in the greater Palm Springs area.
As one of the leading golf destinations in the United States, the city of La Quinta is commonly referred to as the "Gem of the Desert" for several good reasons. Back dropped by the majestic Santa Rosa Mountains, there are few more perfect or prestigious places in which to reside in this thriving desert region. A near ideal annual climate insures outdoor activities are always on tap for year-round fitness and fun.
Schmett discussed Codorniz recently, "Everyone is talking about Codorniz and its incredible location close to SilverRock Resort. Fortunately, I purchased my own investment property there a few years ago and it has proved to be a smart decision. You have to commend builder RJT Homes for their amazing foresight in choosing that particular spot in the heart of South La Quinta. I have really enjoyed watching La Quinta grow into a world-class destination, especially for anyone who loves golf. We are also a premier art colony as well with museums nearby and cultural fare second-to-none."
The 1,504 square foot Sage model is a favorite with three bedrooms and two and a half baths. Unique to the Sage model is a European master bedroom balcony and a generous kitchen with built-in desk. Abundant amenities such as swimming, tennis, an outdoor entertaining area with fireplace, entry courtyards, private patios, and designer upgrades put Codorniz at the top-of-the-line for quality and value in upscale patio homes. The Mediterranean ambiance gives Codorniz an old world charm that complements the artistic feel of a small village. With already more than half sold out, the homes at Codorniz are in high demand.
For more information on Codorniz, La Quinta, visit http://www.codorniz.net.
To find out more about investing in La Quinta, CA real estate, visit http://www.laquintarealestateinfo.com.
About Luxury Homes by Keller Williams: Luxury Homes by Keller Williams – La Quinta, is an exclusive, elite and sophisticated group of real estate consultants raising the bar for service in the upper-tier La Quinta and Palm Springs area residential real estate market.