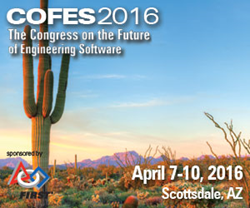 What we haven't done is even conceive of the tools we need for co-evolution of complex things. That's what we will explore at COFES 2016.
Scottsdale, AZ (PRWEB) April 07, 2016
Cyon Research Corporation today welcomes attendees to the opening of the 17th annual Congress on the Future of Engineering Software (COFES). COFES runs from April 7-10 and is held at the Scottsdale Plaza Resort.
Widely recognized as a think-tank event, COFES gathers vendors, users, press, and analysts to discuss the most important issues facing both customers and providers of design and engineering technologies. The three-day event provides a relaxed and informal atmosphere designed to foster thoughtful conversation. Key to the success of COFES is its briefings and roundtable discussions, where participants explore trends and technologies of engineering software that will drive future innovation.
The theme for COFES 2016 is "The Move to Co-Evolution." For the past 16 years, COFES has provided an ideal environment for busy engineers and business leaders to lift their heads from the daily grind and consider their work in a broader context. This year COFES explores the nature of the tools needed to re-imagine design in the context of the 21st century.
"We've created great tools for the design of physical products and electronics and decent tools for the design of software," explained said Brad Holtz, president and CEO of Cyon Research Corporation. "What we haven't done is even conceive of the tools we need for co-evolution of complex things. That's what we will explore at COFES 2016."
Friday's keynote speaker is Andrew Hessel, futurist and catalyst in biological technologies. In his keynote "Virus Engineering and Beyond", Hessel will discuss the programming of living things. He believes that we are now advancing from reading genetic code to writing it. This means that we can design tools specific for living organisms and prototype the processes to bring these designs into the real world. Hessel's work extends CAD and 3D printing into biology, a vast design space that is largely unexplored. Hessel says that cells are the ultimate 3D printers; they can be programmed to produce millions of compounds, including medicines, foods, or fuels—or used as ink in 3D printers.
Saturday's first keynote is Tom Crumm, a brilliant scenario planner. In his keynote "Thinking about Long-Term Impacts of Big Decisions", Crumm will explore those decisions, their impacts, and the dual roles of strategic planning and scenario planning. Crumm's book, "What's Good for General Motors" (a COFES book club selection) focuses on key strategic decisions and how they shaped the auto industry and the economy. In the book, Crumm explores the implications of those decisions and the impact they have had, now 100 years later.
The second keynote on Saturday is Mark Anderson, publisher of the SNS Global Report on Technology and the Economy. In his keynote, "What to Expect for the Next Year", Anderson will share his ten predictions for the coming year, along with some impactful trends he's tracking. Each year he hosts an annual predictions dinner, and he has a success rate of 94.7% accuracy.
This year's COFES will also feature findings of the simulation summit ASSESS: The Analysis, Simulation, and Systems Engineering Software Summit, held in Potomac, Maryland on January 20-22, 2016. ASSESS is a working congress, set up to educate, guide and influence software strategies for multidisciplinary simulation and design exploration. Three ASSESS sessions will also be held during COFES: an ACCESS Initiative Advisory Committee meeting, a Special Session for reporting the findings from ASSESS 2016 and an ASSESS roundtable discussion.
Also starting today is the seventh annual Design and Sustainability (DaS) Symposium, a unique gathering of leaders within the COFES community who represent diverse industry sectors with strategic interest in software. The goal of the DaS Symposium is to bring sustainability to the forefront of the conversation among software developers and to look for opportunities and issues that may be best served by the industry as a whole, rather than by individual players within the industry. Leaders of the DaS symposium hope to inspire, raise awareness, build relationships and seek sustainable synergies. The bulk of the DaS Symposium will take place on Thursday, April 7 from 8:30 AM to 3:00 PM PDT, followed by discussions as part of the general COFES program.
To view the full agenda of COFES 2016, please visit: http://cofes.com/Program.aspx
About COFES
Now in its 17th year, COFES is the annual, invitation-only event for the design and engineering software industry. Widely recognized as a think-tank event, COFES gathers design and engineering software leaders (vendors, users, press, and analysts) together to discuss the role engineering technology will play in the future survival and success of business. COFES is renowned for hosting leading keynote visionaries that provide a new perspective to the future of the industry. COFES is a Cyon Research event. cofes.com
About Cyon Research
Cyon Research Corporation is a think-tank providing key information, research, analysis, and consulting to its clients worldwide. COFES (c) is Cyon Research's primary event. cyonresearch.com
Media Contact: Becca Wells
+1-301-365-9085
becca(dot)wells(at)cyonresearch.com