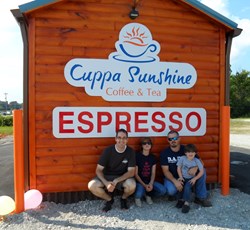 After extensive research, we chose Crimson Cup for their complete and continued support. - Steven Greer, Cuppa Sunshine Coffee & Tea.
Columbus, OH (PRWEB) August 30, 2013
Crimson Cup Coffee & Tea, an Ohio specialty coffee roaster and coffee shop franchise alternative, has added four new businesses to the growing roster of independent coffee houses, bakeries and restaurants in 28 states serving Crimson Cup beverages. The new enterprises include Cuppa Sunshine Coffee & Tea in Dickson, Tenn.; Le Chocoholique Easton in Columbus, Ohio; Kool Beans Coffee Wine Bar in Lancaster, Ohio; and Sweet Sensations Coffee Shop & Bakery in Winchester, Ind.
"Awesome coffee and independent businesses are our two biggest passions here at Crimson Cup," said Founder and President Greg Ubert. "We're excited to help four new businesses get off to a great start in serving handcrafted coffee and espresso-based beverages to their customers."
Each of the business owners completed Crimson Cup's 7 Steps to Success program. Unlike a coffee shop franchise, Crimson Cup allows business owners to create a unique specialty coffee business that reflects their individual tastes and the needs of their local community. From the name on the door to the location, menu, interior decor and other features, the owners put their stamp on a unique business with the help of Crimson Cup consultants.
"We offer everything a coffee shop franchise does – and more – but without franchise fees and royalties," Ubert said. "Our consulting services, which include on-site training, marketing materials, menu ideas and much more, are all designed to help reduce costs, increase profits and eliminate potential headaches."
After dealing with the long hours and hustle and bustle of the North Dakota oilfields, Steven and Sunshine Greer decided it was time for a change of pace. Resettling their family in Dickson, Tenn, they sought an opportunity that would allow them to run a business and spend more time with their children.
"After extensive research, we chose Crimson Cup for their complete and continued support," said Steven Greer. "They have been an essential part of opening our new business, and we have been very pleased with the design, planning, and onsite training."
The Greers decided to open a drive-thru coffee kiosk to provide a great cup of coffee to commuters starting their drive into Nashville. Working with their daughter Kailee allows them to enjoy family time while getting to know more new customers every day.
"Everyone has been extremely helpful and friendly during all phases of this process," said Sunshine Greer. "We would recommend Crimson Cup to anyone beginning a venture into the coffee business."
Cuppa Sunshine began its soft opening in August and will host a Grand Opening event on Tuesday, Sept. 24. To learn more, visit Cuppa Sunshine Coffee & Tea on Facebook.
Le Chocoholique, at 4037 Fenlon in the Fenlon Square District of Easton Town Center in Columbus, is the third business that owner Monica Barr has opened serving Crimson Cup products. Le Chocoholique offers amazing chocolates, desserts, cocktails and, of course, delicious espresso-based drinks from Crimson Cup. Learn more at lechocoholique.com.
Tammy Seimer joined the Crimson Cup Community in July with the opening of her cafe, Kool Beans Coffee Wine Bar. Located at 111 Columbus Street in historic downtown Lancaster, Ohio, Kool Beans serves a full selection of Crimson Cup drinks, as well as desserts, lunches and delectable wines. The Kool Beans Coffee Wine Bar Facebook page features the café's latest creations and drink offerings.
Brother and sister Aaron and Angie Shewman decided that the bakery they had purchased in Winchester, Ind. needed something more – Crimson Cup beverages! Located across the street from the county court house at 105 West Franklin Street, Sweet Sensations Coffee Shop and Bakery offers a full line of Crimson Cup products, in addition to custom decorated cakes, cupcakes, and some of the finest fresh-made donuts in Indiana. Sweet Sensations began its soft opening on August 19. Visit the Sweet Sensations Coffee Shop & Bakery Facebook page for more information.
After training, business owners become part of the Crimson Cup Community of independent coffee businesses. Ongoing consulting and a community portal help owners manage their businesses and share experiences with other business owners.
About Crimson Cup Coffee & Tea
Since 1991, Crimson Cup Coffee & Tea has hand-roasted specialty coffee in Columbus, Ohio and taught independent business owners how to be successful through its coffee shop franchise alternative program. Sustainably sourced Crimson Cup coffee is available through a network of more than 350 independent coffee houses, grocers, college and universities, restaurants and food service operations across 28 states, as well as the company's own Crimson Cup Coffee House in the Columbus suburb of Clintonville. For more information, visit crimsoncup.com.