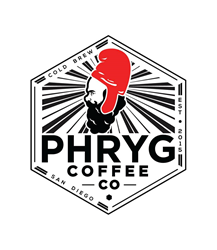 Cold brew elevates the experience of coffee and tea!
San Diego, CA (PRWEB) October 30, 2015
PHRYG COFFEE CO. (pronounced FRIDGE) is launching a line of cold brew coffees and teas designed to free people from their preconceptions surrounding beverages in the fridge. Their drinks are crafted to offer healthy indulgence joined with utility and ease.
Cold brew coffees will include a light roast Ethiopia Yirgacheffe and a flagship Phryg blend, batch roasted by an Orthodox Priest in Eastern Washington.
Teas will include a pure oolong, a white tea with coconut, a black tea with mango, and a green tea with peppermint and spearmint. Several of the teas are infused with marigold and blue mallow flowers, and all of the ingredients are organic.
"Cold brew elevates the experience of coffee and tea," says Phryg's CFO and co-founder Jacob Nelson, "and Phryg accepts no compromise."
Coffees specially roasted for cold brew and handcrafted tea blends are placed in chilled, stainless steel containers to soak in natural mountain spring water. When the rich, complex flavors have fully diffused, the resulting brew is finely calibrated with micron filters and bottled in amber glass to protect from light exposure.
Phryg will be proudly participating in the USO's 5th Annual Golf Classic at Crosby National Golf Club in Rancho Santa Fe on Saturday, November 3. Their variety of refreshing, unsweetened coffee and tea will be available on the golf course throughout the tournament.
Phryg also announces today a strategic partnership with San Diego's Tea Gallerie, the definitive source of exceptional loose leaf tea.
###
About PHRYG COFFEE CO.
Based out of San Diego, California and founded in 2015, PHYRG COFFEE CO.'s mission is to offer an unparalleled selection of premium cold brew coffee and tea. The name, Phryg, comes from the abbreviated version of "Phrygian" cap, a symbol of enlightenment, and a phonetic allusion to the refrigerator.
For further information on the brand and interview opportunities including taste samples, please contact Guil Abreu, co-founder and CEO, at (619) 356-8544 or abreu(at)phryg.com