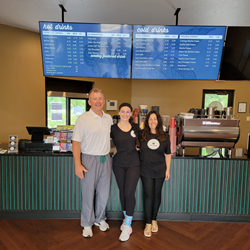 "Crimson Cup has delivered an amazing level of support throughout our opening process." - Teena Stevenson, Coffee Cravings coffee shop, Yorktown, Indiana
COLUMBUS, Ohio (PRWEB) July 07, 2022
The Stevenson family of Yorktown, Indiana, runs on coffee. And now, they run Coffee Cravings, an independent coffee shop serving their local community.
The new shop opened July 5 at 8919 West Adaline Street with support from award-winning Ohio coffee roaster Crimson Cup Coffee & Tea.
For years, coffee has kept the busy family on track. Mike Stevenson works in medical device sales. Wife Teena has been a stay-at-home mom. Daughter Sarah is an occupational therapist. Daughter Amanda is a travel nurse. Son Josh is a student.
"We drink a lot of coffee, but there hasn't been a terrific local coffee shop in our area," said Teena Stevenson. "Given the growing popularity of coffee shops and our passion for exceptional brews, we decided to bring the ultimate coffee experience to Yorktown!"
At first, they considered a coffee food truck. Then came an opportunity to do a brick-and-mortar coffee shop in a redeveloped retail strip mall.
Still, they hesitated. Despite their enthusiasm, they lacked coffee industry experience.
Then, a referral from landlord Dane Carpenter led them to Crimson Cup, which teaches entrepreneurs with little or no coffee knowledge how to open a coffee shop through its 7 Steps to Success coffee shop startup program.
"We're excited to welcome Teena, Mike, Sara, Amanda, Josh and their team to the Crimson Cup community," said Founder and President Greg Ubert. "We look forward to helping their business grow as they serve Yorktown and the greater Muncie area."
Crimson Cup's coffee shop startup program is based on Ubert's book, Seven Steps to Success: A Common-Sense Guide to Succeed in Specialty Coffee.
Through this program, the Columbus roaster has helped over 300 entrepreneurs in 30 states start unique coffee shops in their local communities. In 2021, 19 new shops opened through the program. Coffee Cravings is one of at least 18 planned for 2022.
"We know that successful customers drive our success," Ubert said. "That's why our 7 Steps to Success program delivers all the support of a coffee shop franchise, but with greater flexibility and zero franchise fees or royalties."
As a one-stop shop for independent coffee shops, Crimson Cup supplies award-winning coffee, the best coffee shop supplies in the business, and ongoing support to help coffee businesses thrive.
After reading Ubert's book, Mike and Teena Stevenson talked to 7 Steps Sales Leader Scott Fullerton and toured the Crimson Cup Innovation Lab, an SCA Premier Training Campus in Columbus, Ohio.
"We felt very positive and comfortable after meeting with Scott," Teena Stevenson said. "From that first meeting, Crimson Cup has delivered an amazing level of support throughout our opening process."
Crimson Cup's 7 Steps to Success coffee shop startup consultants have guided the family through every step, from writing a solid coffee shop business plan to laying out the shop, sourcing equipment, training baristas, marketing to customers and more.
Of the 7 Steps, Teena Stevenson said she found Step One: Focus on The Location, Step Five: Focus on Training and Step Six: Focus on Customer Service the most valuable.
The week before the July 5 soft opening for Coffee Cravings, 7 Steps Project Manager and Trainer Steve Bayless traveled to Yorktown to train the family and their new baristas.
"The training is amazing!" said Mike Stevenson. "Steve is really knowledgeable, and funny."
A Crimson Cup Customer Growth Manager will return to Yorktown to support the new café's August 9 grand opening.
The coffee, roasted by Crimson Cup, has won a warm welcome from local coffee lovers. The roaster's exceptional craft and specialty have earned top honors at the Good Food Awards, Golden Bean North America, Roast magazine's Roaster of the Year and other competitions.
"The Iced Coffee and Smoothies here are great! I can't wait to try the frozen hot chocolate and even the regular hot chocolate!" wrote one Facebook reviewer. "The prices are great … If you are in the area, or even if you aren't it will definitely be worth the drive! Give them a visit!"
Asked for advice for other coffee shop owners, Mike Stevenson said, "Call the local health department, make sure your sinks arrive and have your signs made."
"Use Crimson Cup for your setup and training," he added. "We didn't know what we didn't know, but we couldn't have done it without Crimson Cup. Working with experts who have done this before gave us so much peace."
Teena Stevenson said she was surprised by the speed and efficiency of the opening process. "Everything happened so fast it blew our minds!" she said. "Crimson Cup really took a lot of the worry out of the process."
The Stevensons invite everyone in Yorktown and Delaware County to visit Coffee Cravings.
"We believe in the power of hospitality and are passionately committed to our customers," Teena Stevenson said. "Come see us for the best local coffee experience!"
To keep up with events and announcements, including new menu items and the August 9 grand opening celebrations, follow the Coffee Cravings Facebook Page.
About Crimson Cup Coffee & Tea
Founded in 1991, Crimson Cup is at the forefront of the coffee industry. Its attentive roasting, startup support and global partnerships are consciously designed for the greater good of communities around the world. Among other national recognitions, the company has earned 2020 and 2017 Good Food Awards, the 2019 Golden Bean Champion for Small Franchise/Chain Roaster and Roast magazine's 2016 Macro Roaster of the Year.
Crimson Cup travels the world searching for the perfect cup – driven by meaningful relationships, honesty and a shared vision for the future. Its Friend2Farmer initiatives foster respect and decency through mutually beneficial collaboration across local and global communities.
Through its 7 Steps to Success coffee shop startup program, the company teaches entrepreneurs how to open and run independent coffee houses in their local communities. By developing a coffee shop business plan, entrepreneurs gain insight into how much it costs to open a coffee shop.
Crimson Cup coffee is available through over 350 independent coffee houses, grocers, college and universities, restaurants and food service operations across 30 states, Guam and Bangladesh. The company also owns several Crimson Cup Coffee Shops and a new CRIMSON retail flagship store. To learn more, visit crimsoncup.com, or follow the company on Facebook and Instagram.