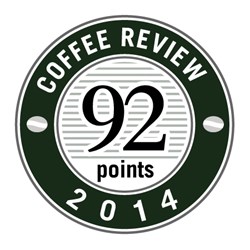 Our goal as roasters is to showcase the hard work of the farmers who grow awesome coffee beans. Independent reviews of our coffees affirm that we're meeting this goal. - Greg Ubert
Columbus, Ohio (PRWEB) January 24, 2014
Ohio coffee roaster Crimson Cup Coffee & Tea recently received an outstanding 92-point rating of its Ethiopian Sidamo Kellenso from Kenneth Davids and the Coffee Review. Reviewers described the handcrafted coffee as, "A crisply (and skillfully) light-roasted version of the fruit-and-brandy style of southern Ethiopia natural-processed cup."
Crimson Cup is dedicated to roasting high-quality coffee and to helping independent cafes brew and serve it better. "Our goal as roasters is to showcase the hard work of the farmers who grow awesome coffee beans," said Founder and President Greg Ubert. "Independent reviews of our coffees affirm that we're meeting this goal."
Coffee Review's blind assessment was, "Complex and brandy-toned. Minty dark chocolate, papaya-like fruit, hints of musk and sweetly pungent fir in aroma and cup. Brisk but juicy acidity; lightly syrupy mouthfeel. Richly sweet though drying in the finish." The complete January 2014 review is available on the Coffee Review website.
The coffee is naturally dry processed, meaning the coffee beans are dried inside the coffee cherries instead of being removed from the fruit before processing. It is lightly roasted to preserve the origin flavors of the beans.
Ethiopian Sidamo Kellenso is available at Crimson Cup Coffee House in Clintonville and at select independent cafes serving Crimson Cup beverages. Bags of fresh-roasted coffee can be purchased from the Crimson Cup website at a cost of $16.95 for 12 ounces.
About Crimson Cup Coffee & Tea
Since 1991, Crimson Cup Coffee & Tea has hand-roasted specialty coffee in Columbus, Ohio and taught independent business owners how to be successful through its coffee shop franchise alternative program. Sustainably sourced Crimson Cup coffee is available through a network of more than 350 independent coffee houses, grocers, college and universities, restaurants and food service operations across 28 states, as well as the company's own Crimson Cup Coffee House in the Columbus suburb of Clintonville. For more information, visit crimsoncup.com.