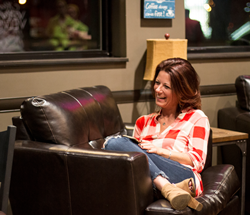 "I know first-hand the value Crimson Cup brings to the industry and our customers, and I deeply believe in our terrific coffee, core values, and the industry expertise we offer. I can't imagine running my own shop without Crimson Cup in my corner." - Heather Ciranna
COLUMBUS, Ohio (PRWEB) October 22, 2021
After a 20-year corporate career in business, marketing and public relations, Heather Ciranna launched her own Corner Cup Coffeehouse in her hometown of Stow, Ohio, in 2015.
She learned how to open her independent coffee shop through the 7 Steps to Success coffee shop startup program offered by Crimson Cup Coffee & Tea.
After learning earlier this year that her landlord had other plans for the building that housed Corner Cup, she started looking for a new location – and a new way to put her passion for coffee and entrepreneurship into practice.
Now, as a member of Crimson Cup's coffee shop startup consulting team, she helps other entrepreneurs open and grow their own coffee shops.
"As a 7 Steps Customer Growth Rep, I'm excited to use my experience to help others achieve their dreams of opening their own coffee shop," she said. "Through the 7 Steps, our team provides a roadmap for how to succeed in the coffee business."
"It's a proven, repeatable, common-sense model that eliminates the guesswork for new owners, while still allowing them to create their own vision and coffee community."
The program grew out of Seven Steps to Success: a Common-Sense Guide to Succeed in Specialty Coffee, written by Crimson Cup Founder and President Greg Ubert.
Ten new independent coffee shops opened through the 7 Steps program in the first half of 2021. Crimson Cup expects that another 22 will have opened by the end of 2021.
"We think now is a perfect time to open an independent coffee shop," Ubert said. "Specialty coffee demand continues to grow, lots of prime real estate is available and interest rates remain low."
7 Steps consultants support coffee shop owners at every step – from scouting a profitable location and writing a coffee shop business plan to laying out the shop, choosing equipment, hiring staff and providing comprehensive training.
A 7 Steps Trainer travels to the new coffee shop the week before opening to train the owner, manager and baristas in how to prepare drinks and manage coffee shop operations.
Six to eight weeks later, Ciranna returns for the grand opening to ensure the business is off to a profitable start.
As long as a coffee shop remains a Crimson Cup customer, Ciranna and the rest of the 7 Steps consulting team offer ongoing support.
"No two days are the same as a coffeehouse owner, and having an experienced resource who is a phone call away at any hour is comforting and invaluable, especially at the beginning of an ownership journey," she said.
"Whether it's a product issue, equipment question, brainstorming a marketing strategy, understanding financial goals, or addressing an employee challenge, we work through it together."
Ciranna is passionate about sharing the Crimson Cup core values and the key principles of entrepreneurship in her own community, where she serves as a mentor and frequent guest speaker to inspire local youth to explore their dreams of business ownership.
Once she finds the right location in Stow, she plans to reopen Corner Cup – again, with Crimson Cup's help.
"I know first-hand the value Crimson Cup brings to the industry and our customers, and I deeply believe in our terrific coffee, core values, and the industry expertise we offer," she said.
"I can't imagine running my own shop without Crimson Cup in my corner."
About Crimson Cup Coffee & Tea
Columbus, Ohio coffee roaster Crimson Cup Coffee & Tea is a 2020 Good Food Award winner, 2019 Golden Bean Champion for Small Franchise/Chain Roaster and Roast magazine's 2016 Macro Roaster of the Year. Since 1991, Crimson Cup has roasted sustainably sourced craft coffee for consumers and wholesale coffee customers.
Through its 7 Steps to Success coffee franchise alternative program, the company teaches entrepreneurs to run independent coffee houses in their local communities. By developing a coffee shop business plan, entrepreneurs gain insight into how much it costs to open a coffee shop.
Crimson Cup also supports life-enriching projects through its Friend2Farmer® initiatives, promoting the education, health, sustainability and economic growth of small-plot coffee farmers and their communities.
Crimson Cup coffee is available through over 350 independent coffee houses, grocers, college and universities, restaurants and food service operations across 30 states, Guam and Bangladesh. The company also operates several Crimson Cup Coffee Houses and a new Crimson retail flagship store. To learn more, visit crimsoncup.com, or follow the company on Facebook and Instagram.