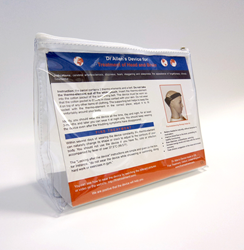 Dr. Allen's Device for the Treatment of Head and Brain is recommended for people concerned about losing their cognitive abilities and memory.
London, GB (PRWEB) September 04, 2014
A therapeutic treatment of the whole brain can now be achieved with the use of a unique Dr. Allen's Device which places 2 natural thermo-elements to the head enhancing blood circulation in the left and rights parts of the brain. It is important as a Health-Day reporter Robert Preidt from the US-News has explored the findings presented at a recent conference in Australia, stating that at least one part of an older person's brain can still process information as well as younger people, Fine Treatment reveals.
According to the article 'One Part of the Brain Doesn't Age, Study Suggests,' dated August 22, 2014, in the Health-Day, that compared older adults to younger ones, though, at least one part of the brain might not be affected by the aging process. The study found that seniors don't show deterioration in spatial reasoning skills. Spatial reasoning plays a key role in daily tasks, such as navigating a walk around the neighborhood, assembling furniture, and driving to work.
"Our studies have found that older and younger adults perform in a similar way on a range of visual and non-visual tasks that measure spatial attention," Dr. Joanna Brooks, who conducted the experiments as a visiting research fellow at the University of Adelaide in Australia, said in a university news release: 'Part of the brain stays "youthful" into older age,' dated August 7, 2014. "The results challenge current thinking. We now need to better understand how and why some areas of the brain seem to be more affected by aging than others."
"Thermobalancing therapy is able to improve the brain condition gradually by improving the blood flow in the affected part of the brain. As it is difficult sometime to find out the areas with reduced blood circulation, the device attaches 2 thermo-elements to the left and right parts of the brain," comments Dr. Simon Allen. "Dr. Allen's Device for the Treatment of Head and Brain is recommended for people concerned about losing their cognitive abilities and memory."
For details, please visit Fine Treatment at http://finetreatment.com/brain-and-head-treatment/.
About Dr. Simon Allen and Fine Treatment:
Dr. Simon Allen, MD, PhD, Academician, member of the ATA, is a highly experienced medical professional. His specialty is in internal medicine. He has treated a wide range of chronic diseases, including patients after a heart attack, stroke, with kidneys problems, including kidney stones disease, prostate and spine conditions, as well as metabolic disorders.
Fine Treatment ensures international availability of Dr. Allen's Devices for the treatment of chronic prostatitis and BPH, coronary heart disease, for dissolving kidney stones, for a powerful relief of upper and lower back pain and sciatica, as well as for natural brain function support.