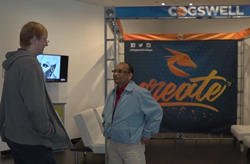 "ICPC is an expanding operation and it has grown globally over the years. I've been involved with ICPC for almost 40 years, from a single country of competition in the U.S, to an international operation with teams from countries all around the world," says Technical Director of ICPC John Clevenger.
SAN JOSE, Calif. (PRWEB) December 03, 2019
ICPC is an international competition that has been taking place since the late '80s. The competition is comprised of teams of three working together developing algorithms, solving as many problems as they can in five hours. The competition is split up into two divisions. The top division has a problem set that is very difficult, similar to what you see at the World Finals. The second division are teams that are still getting started and aren't as algorithmically savvy as the top division teams.
Cogswell College had the pleasure of hosting this year's Northwest regional ICPC. Director of Computer Science and Engineering at Cogswell College Mohan Shah, worked alongside Director of the ICPC Pacific Northwest region Thomas Capaul, and Technical Director for ICPC John Clevenger, to host the 2019 ICPC Northwest Regional Competition. Contestants get to build teamwork skills, problem solve and code under pressure. Many of these skill sets are directly applied in real-world settings such as job interviews.
Cogswell College was the main hub running systems and judging that connected to multiple sites ranging from Hawaii, Western Washington, and British Columbia. The top five Division One teams will advance to the North American Championship, which is occurring for the first time February 19th through the 23rd, 2020 at Georgia Tech University in Atlanta. The top finishing team in Division One will advance to the World Finals in Moscow, Russia June 20th through 25th, 2020. Cogswell Polytechnical College hosted not only the Northern California site for all the teams, but they took on the added challenge of hosting the Systems Team and the Judges' Team which is a huge additional responsibility. ICPC is anticipated to grow and advance as the premier programming competition in the world, and Cogswell College looks forward to continued involvement helping ICPC grow. "It's a gosh-awful lot of work, and a lot of people at Cogswell put in a lot of time. As I said, I've been doing this for 20 years and I haven't seen it done better! I was impressed from the moment that I walked into the building here. Mohan Shah and his group have gone above and beyond the call of duty," says Director of the ICPC Pacific Northwest region Thomas Capaul.
Watch the recap video here: https://www.youtube.com/watch?v=f7T5JRapBDw
About Cogswell Polytechnical College
Founded in 1887, Cogswell Polytechnical College (Cogswell) has taken a hands-on, interdisciplinary approach that has been producing industrial-strength results for over 130 years. Cogswell prepares students for success in the creative-technology industries by providing an extraordinary, real-world education inspired by the entrepreneurial spirit of our Silicon Valley location. Cogswell's project-based programs are designed to engage the students' imagination and develop their skills in real-world settings alongside industry professionals. Cogswell is regionally accredited by the WASC Senior College and University Commission (WSCUC) and has an average 79% first-year retention rate. Visit cogswell.edu, Cogswell's Instagram, or call 1-855-COGSWELL to learn more about our award-winning programs. For important regulatory information, please see visit our website at cogswell.edu/disclosures.