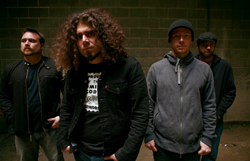 (PRWEB) May 16, 2014
After building up an overwhelming amount of anticipation for their fans, Coheed and Cambria announced that they will be going on a massive, 25-date tour this fall, performing across the United States and Canada. Joining them throughout the tour will be Thank You Scientist, serving as their sole opening act.
They began raising questions and excitement last week by adding a countdown on their website. Fans were then given the option to add their phone number to the site and were old to be expecting a call when the countdown stopped. The call was placed Monday afternoon, telling of an upcoming, nationwide tour.
The tour will serve as their latest installment of their NEVERENDER album performance series, playing their 2003 album In Keeping Secrets of Silent Earth: 3 in it's entirety. The album is one of their most successful having been certified gold and selling over 500,000 copies. IKSSE:3 includes hit singles like "A Favor House Atlantic" and "Blood Red Summer."
Coheed's NEVERENDER concert series began in 2008, when the band played their first four LPs in four, consecutive nights. All of Coheed and Cambria's albums tell a fictional story line called The Armory Wars, which was written by front man Claudio Sanchez. Since its creation, it has been converted into both a comic book series as well as a full-length novel. This latest installment is sure to draw in fans across the nation and bring The Armory Wars' story line to life.
2014 Coheed and Cambria IKSSE:3 Tour tickets went on sale to the general public this morning at 10am and are expected to sell very quickly for this hot event. Fans looking to secure their seats now can find tickets at 10% off by entering the code IKSSE3 at checkout on SuperStarTickets.com.
2014 Coheed and Cambria IKSSE:3 Tour Dates:
Sept. 5 - Riverside, CA (Municipal Auditorium)
Sept. 6 - Los Angeles, CA (The Wiltern)
Sept. 7 - Oakland, CA (Fox Theater)
Sept. 9 - Seattle, WA (Paramount Theater)
Sept. 10 - Portland, OR (Roseland Theater)
Sept. 12 - Salt Lake City, UT (The Complex)
Sept. 13 - Denver, CO (Fillmore Auditorium)
Sept. 15 - Dallas, TX (South Side Ballroom)
Sept. 16 - Austin, TX (Stubbs Waller Creek)
Sept. 17 - Houston, TX (House of Blues)
Sept. 19 - Lake Buena Vista (House of Blues)
Sept. 20 - North Myrtle Beach, SC (House of Blues)
Sept. 21 - Charlotte, NC (The Fillmore Charlotte)
Sept. 23 - Silver Spring, MD (The Fillmore)
Sept. 24 - Upper Darby, PA (Tower Theatre)
Sept. 25 - Montclair, NJ (Wellmont Theatre)
Sept. 27 - New York, NY (Hammerstein Ballroom)
Sept. 28 - Boston, MA (House of Blues)
Sept. 30 - Detriot, MI (The Fillmore Detroit)
Oct. 1 - Toronto, ON (Kool Haus)
Oct. 2 - Cleveland, OH (House of Blues)
Oct. 4 - Minneapolis, MN (Skyway Theatre)
Oct. 5 - Chicago, IL (House of Blues)
Oct. 6 - Louisville, KY (Mercury Ballroom)
Oct. 7 - Atlanta, GA (Tabernacle)
SuperStarTickets is the nation's premiere ticketing source for concerts, theatre and sporting events. We pride ourselves in not only our incredible tickets, but also in our commitment to our customers. With highly skilled representatives there to guide you along the way, we guarantee that your ticket buying experience will be easy and painless. For more information regarding the Coheed and Cambria 2014 IKSSE:3 Tour or to find last-minute concert tickets go to SuperStarTickets.com now.