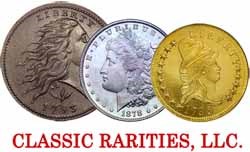 When knowledge and integrity matter most...deal with a name you can trust.
Hamburg, NY (PRWEB) October 07, 2013
Buffalo, New York coin dealer John Magavern of Classic Rarities, LLC warns against cleaning old coins, as it will greatly decrease what they're worth.
It's a lesson he learned the hard way. Magavern became active in numismatics in his late teens when a good friend gave him an 1884-S Morgan dollar from a small group of silver dollars his father had given him. A few years later they went down to the local store and picked up a coin magazine, looked it up, and saw that it had a very wide range in value depending on its condition. They saw that on one side of the page it was worth its weight in silver, while on the far other side of the page it was worth $75,000. Being a couple of average teenagers, they figured the shinier it was, the more it would be worth.
It was here that Magavern's journey into numismatics would begin. He and his friend found his friend's mother's jewelry cleaner and dipped the coin in it, trying to remove the patina that had formed on it. The coin still had some toning around the devices or protected areas of the coin. They then got out the baking soda and a toothbrush and made it shine like a military belt buckle. Thinking they were ready to show their prized rarity to the local coin dealer and claim their windfall, they were in for a rude awakening when the dealer said, "you have a better date Morgan dollar but it looks as though someone harshly cleaned it." Cleaning it turned it into a piece of silver and ruined any numismatic value.
The first-ever public display of the Coronet Collection just crowned as the finest current Morgan Dollars Basic Set just took place at the Long Beach Expo Sept. 26 and 27. Read more at: http://news.coinupdate.com/current-finest-morgan-silver-dollar-set-on-display-at-long-beach-expo-2156/
Now that Magavern knows how to properly grade coins, that silver dollar was somewhere in the low mint state grade and would have been worth $2,000+ at the time - around 30 years ago. It was that big mistake that put him on the path to numismatic enlightenment. From there he started collecting Morgan dollars and reading books on coins. Around the third book, he wrote the two authors, J.T. Stanton and Bill Fivaz, in the hopes of visiting one of them in Georgia to further his knowledge. Both responded in a very timely manner, but it was Stanton that he would fly out to see. J.T.'s vast knowledge, and more importantly his willingness to share both his time and experiences, led Magavern to become a professional numismatist. It was through his advice that he joined the American Numismatic Association, and began taking classes on coin grading and counterfeit detection as well as numerous other ones throughout the years. Now, 20 some years later, he's a successful wholesale coin dealer looking to purchase all U.S. coin collections large or small.
About the company:
As a Buffalo NY rare coin dealer, John Magavern is well respected both locally and nationally within the numismatic community for honest and professional dealings. Essentially a one-man operation, Magavern states, "I'm not the largest dealer out there, nor do I want to be. As a rare coin dealer in Buffalo New York, my many years of experience have taught me to keep service high and costs low, helping me to pay you more for your coins." Please visit the Classic Rarities website for more information. Serving the Western New York area, Classic Rarities, LLC is located at 71 Main St. Hamburg, NY 14075 and can be reached regarding the sale of your U.S. coins at 716-863-9099 or http://www.classicraritiesnewyork.com.