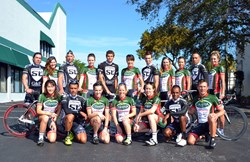 We had a fantastic week together with the teams.
Boca Raton, FL (PRWEB) February 05, 2014
Stradalli Cycle, the high performance carbon fiber bicycle manufacturer, is pleased to announce that it hosted Team Colavita - Fine Cooking – Stradalli Cycle for a special winter training camp in Boca Raton, South Florida.
The week long training camp saw Team Colavita- Fine Cooking- Stradalli Cycle, a women's professional team, united with the newly formed Colavita – Stradalli men's team. At the camp the athletes were able to train together, ride together and relax together.
The preparations, both mental and physical, also coincided with the preparations of the equipment. Members from both teams will ride Stradalli RP-14 full carbon bicycles during 2014 and the camp gave the race engineers a chance to tune each bike perfectly to its rider.
"We had a fantastic week together with the teams," said Stradalli Cycle CEO Tom Steinbacher.
"We were able to get all the bikes perfectly adjusted for every member so they could train hard for their upcoming race season."
Every member of Team Colavita-Fine Cooking-Stradalli attended the winter camp including James Carney the team's Director. James is no stranger to competitive cycling as he has been a professional cyclist himself since 1994. In his career he has qualified for two Olympic teams and three Pan American Games teams. He is also a two-time track world cup champion and recently Carney won his 22nd national title at the 2012 USA Cycling Elite Track National Championships.
This year Carney will be overseeing one of Team Colavita-Fine Cooking-Stradalli's best lineups yet. Team captain Erica Allar, who was the 2013 National Criterium Calendar Champion and the 2013 USA CRITS Series Individual Champion, is joined by Lenore Pipes and Jessica Prinner, both of whom previously rode with Allar.
The rest of the 10 member team are Lindsay Bayer, Laura Brown, Olivia Dillon, Amy Good, Jennifer Purcell, Whitney Schultz and Mary Zider. The team hopes to build on its successes of 2013 where team members often took a podium position. Significant results during 2013 include Laura Brown's first in the Tybee Island Speedweek Criterium and Lindsay Bayer's podium finishes in the NCC Air Force Classic Crystal Cup and the Air Force Classic Omnium.
About the Team Colavita - Fine Cooking - Stradalli Cycle
Women's Pro Cycling Team Colavita USA LLC, which is headquartered in Edison, NJ, is a family owned business that has been importing and distributing Colavita Extra Virgin Olive Oil for over 30 years. For more than a decade Colavita has been a sponsor of professional cycling and since its debut in 2003 the women's teams have consistently ranked in the top 10 in the US, with #1 rankings in 2010 and 2011.
Fine Cooking is a national food magazine and online publication. Fine Cooking has proven itself in the epicurean magazine category with its 250,000 circulation, 1,500,000 average unique users on FineCooking.com, 15,000 online paid members and numerous accolades.
About Stradalli
The Stradalli Cycle Company is based in Florida and sells worldwide to the keen athlete who demands the best equipment. With years of experience in high-tech manufacturing and design as well as a passion for cycling, Stradalli brings passion and innovation to the road racing, triathlon and mountain bike markets.