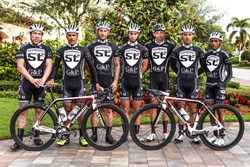 This will be a fun 2014 race season.
Miami, FL (PRWEB) February 06, 2014
Stradalli Cycle, the high performance carbon bicycle manufacturer, is pleased to announce the formation of its new six member pro cycling race team. With the help of Colavita USA LLC, the company behind the popular Colavita Extra Virgin Olive Oil, Stradalli Cycle welcomes Yosvany Falcon, Cesar Grajales, Jose Frank, Grant Potter, Lucas Wardein, and Roslan Rivera.
The new team, which will exclusively ride Stradalli Cycle full carbon bicycles, brings together champions and top performing cycling professionals under the banner of Team Colavita-Stradalli.
Heading up the new team is multiple time World Champion Grant Potter. He is joined by Cesar Grajales, the experienced pro cyclist who has ridden with some of the biggest teams in the sport including Bahati, Navigators, Rock Racing and Team Jittery Joe, he has over 80 pro finishes in the top ten; Yosvany Falcon, the Cuban national team member who has over 100 top ten pro finishes in his ten year pro career; and Jose Frank, top Dominican pro cyclist and sprinter who took part in the 2006 Central American and Caribbean Games.
The new team recently raced at the Doral Classic on February 2nd, 2014 and Yosvany Falcon, Grant Potter and Jose Frank took 1st, 2nd, and 3rd places respectfully. It was a Team Colavita-Stradalli full podium.
"I am very excited about the new Colavita-Stradalli team," said Thomas Steinbacher, CEO of Stradalli Cycle. "We will be providing top of range bicycles for the team including the new Stradalli RP14 full carbon road bike. This will be a fun 2014 race season."
The other sponsor of the team is Colavita USA LLC. This family-owned business has been importing and distributing Colavita Extra Virgin Olive Oil for over 30 years. Colavita has been a sponsor of professional cycling since 2003 and currently sponsors a 10 member women's professional team, also with Stradalli Cycle.
About The Stradalli Cycle Company
The Stradalli Cycle Company is based in South Florida and sells worldwide to the keen athlete who demands the best equipment. With years of experience in both high tech manufacturing and design as well as a love for cycling, Stradalli brings passion and innovation to the road racing and time trial markets.