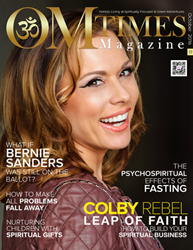 I had always been a Medium since I was a kid, connecting to Spirit, talking to Spirit, but no part of me thought I was supposed to be doing that as a career.
Los Angeles, CA (PRWEB) November 02, 2016
Colby, Psychic Rebel is a straight-shooting, trailblazing professional Psychic Medium. Colby recently graced the cover of the largest conscious-living magazine in the nation, OMTimes Magazine.
In this intriguing article, Colby is interviewed by metaphysical pioneer and founder of Best American Psychics, Shay Parker, and discusses her transformation "from manager to medium". Psychic gifts are difficult for some to apprehend, leaving many to wonder how does an "ordinary person", such as a tax manager, become a world-renowned Psychic Medium. Colby shares her story crossing over from a corporate day-job to her spiritual life's work. She also offers helpful tips to readers who may have intuitive/psychic abilities, and would like to delve further into expanding their gifts to a professional level. Read the full article here.
As a certified master spiritual teacher, Colby has a passion for delivering messages from Spirit. While Colby has helped thousands of clients with direction and clarity through psychic, medium, and group readings, she also felt a calling to share her experience as a tax manager to provide other entrepreneurs with the fundamentals essential to building their own successful spiritual practice. As a result, Colby wrote and published Leap of Faith: How to Build Your Spiritual Business, an all-inclusive guidebook which covers the proven strategies necessary in creating a thriving spiritual business. Purchase the book at Amazon – click here.
In an effort to reach as many people as possible, Colby is frequently a featured expert guest on national and international radio programs. In November, Colby has 3 such interviews scheduled. The first is debuting November 3, 2016 at 4:30pm PST on Evolving Soul. Tune in here.
On November 8, 2016, Colby guest-stars on Shay Parker's Best of the Best, Let's Get Metaphysical with Mary O'Maley, a world-class Hypnotist. Tune in here.
On November 21, 2016, Colby is the featured guest on Discover Your Talent – Do What You Love. Tune in here.
To learn more about Colby, Psychic Rebel, visit her website: http://www.psychicrebel.com
About Colby, Psychic Rebel -
Colby is an international Psychic Medium, a teacher, and a best-selling author. A session with Colby may just feel a bit like talking to a friend. She's an internationally recognized Psychic Medium, Master Spiritual Teacher, Radio Host, Author & Public Speaker.