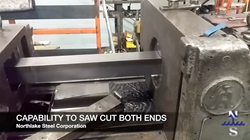 Valley City, Ohio (PRWEB) March 08, 2016
Northlake Steel Corporation announces the expansion of their product line to better service customers and serve as one-stop option for domestic, cold drawn steel products for customers.
Northlake Steel offers a variety of large dimension sizes including 3 and 4 inch cold drawn squares and will include 5 and 6 inch squares and flats in the near future. They currently produce large dimension round cold drawn bars up to 6 inches. This new offering is in addition to other steel products, including:
•Rough Turned/Turned & Polished/Turned and Machined Straightened Shafting;
•Turned, Ground and Polished Bars;
•Linear Shafting;
•Induction Hardened and Chrome Plated bars.
Watch the video to learn more about the cold drawing process and to see a large dimension cold drawn square demonstration.
Additionally, Northlake Steel offers services to handle any cold finished steel bar needs:
•Turning;
•Centerless Grinding;
•Straightening;
•Precision Heat Treating; and
•Plating and Cladding.
Northlake Steel Corporation's long-standing experience with cold drawn steel, paired with their commitment to quality, results in the best total cost solution for customers.
About Northlake Steel Corporation
Northlake Steel Corporation started in 1977 as a 10,000 square foot facility in Mentor, Ohio with a handful of machines and operators producing turned, ground, and polished steel shafting. In 1979, Northlake relocated to a 40,000 square foot facility in Valley View. Additional equipment was purchased and bar turning and induction hardening capabilities were added to complement the existing services. In 1995 Northlake Steel moved to an 82,000 square foot facility for manufacturing cold finished steel shafting in Valley City. An additional 45,000 square feet in 2013 improved manufacturing efficiencies and now allows for additional equipment to be installed.
Northlake Steel has changed over the years, but continues to maintain a commitment to on time delivery of world-class products and services.