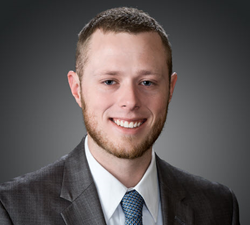 Carson's experience in drug-device products, coupled with his biomedical engineering knowledge, make him a valuable addition to our engineering team," said President, Gary Hutchinson
HOUSTON, Tex. (PRWEB) March 10, 2020
Modality Solutions, a full-service cold chain biopharmaceutical engineering firm, is pleased to announce the addition of Carson Dickey to its growing engineering team. Carson's primary focus is on combination medical device qualification and validation in the biopharmaceutical cold chain. He provides design and validation engineering services by conducting thermal packaging design and qualification for environmentally sensitive products. Carson also serves as a key technical liaison with the client's development team.
According to a recent industry publication, the United States remains the largest medical device market in the world at $156 billion. By 2023 the industry is expected to grow to $208 billion. Combination products are diagnostic and therapeutic – they combine drugs, devices, and biologics. With current advancements, these products offer new ways of treating disease. Stringent packaging standards play a fundamental role in the safe delivery of medical device treatment from manufacturers to patients.
"Carson joining our team of experts supports our goals for providing transport simulation test design, risk assessment, and protocol development as it relates to the combination medical device sector," said Modality Solutions President, Gary Hutchinson. "Carson's experience in drug-device products, coupled with his biomedical engineering knowledge, make him a valuable addition to our engineering team."
Born and raised in Plano, Texas, Carson received his Master of Engineering in Biomedical Engineering with a certification in Quality Engineering for Regulated Technologies from Texas A&M University. As a Bioinnovation Design Fellow, he participated in the design, prototype fabrication, design verification testing, and development of testing protocols and procedures for cutting-edge medical devices. Carson designed innovative polymeric medical device technologies, implemented antimicrobial properties in the devices, and developed testing plans.
To learn more about Modality Solutions, visit https://www.modality-solutions.com.
About Modality Solutions, LLC
Founded in 2011, Modality Solutions, a leading biopharmaceutical cold chain engineering firm, specializes in integrating cold chain operations, developing transport validation strategies, supporting global regulatory applications, and global clinical trial operations. By combining the best practices of process validation, systems qualification, and risk assessment, Modality Solutions has earned the reputation of ensuring regulatory compliance, drug product quality, and patient safety. As a 2019 Inc. 5000 company, Houston Business Journal Fast 100, Entrepreneur 360™, and Forbes Technology Council company, Modality Solutions' team of engineers are experts at delivering cold chain thermal packaging design and qualification, conducting transport simulation testing with its Advantage Transport Simulation Laboratory™, and designing controlled-environment logistics solutions. For more information, visit https://www.modality-solutions.com