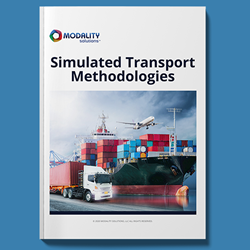 An understanding of these methodologies is vital to ensure the simulated transport hazards reflect the actual cold chain for each therapy," explains Gary Hutchinson, President, Modality Solutions
HOUSTON (PRWEB) August 11, 2020
Modality Solutions, a biopharmaceutical cold chain validation engineering firm, is making available for free its new white paper – Simulated Transport Methodologies. Regulatory expectations are driving the need to incorporate concurrent transport simulation testing into today's biologics licensing application (BLA). In response, Modality Solutions shares an explanation of best-in-class methodologies for today's biotechnology and biopharmaceutical industries.
The simulation transport guide's goal is to detail how simulated transport is a valuable technique to determine the physical stability of drug product protein solutions, including vaccines, monoclonal antibodies, antibody-drug conjugates (ADCs), and gene therapies. Large molecule drug products may be susceptible to degradation when exposed to common transport hazards. Simulation testing exposes the product to the concurrent combination of these hazards at worst-case edges of your operating space in the global supply chain. Unlike ASTM-based testing, the hazards are applied with realistic durations and intensities that reflect the supply chain's risks.
The Simulated Transport Methodologies white paper explains how a transport simulation approach is the most reliable way to create the real-time hazard levels experienced in the cold chain logistics network:

The simulation testing concurrently exposes the product to the five major transport hazards affecting drug product quality: shock, vibration, temperature, pressure, and humidity at the edges of your operating space.
Analytical results from samples exposed to worst-case transportation hazards demonstrate product robustness during simulated shipping.
Non-accelerated profiles are selected because they reflect the energy levels and intensities in the supply chain. The goal is not to accelerate the testing, but to replicate all the hazards in transit.
"An understanding of these methodologies is vital to ensure the simulated transport hazards reflect the actual cold chain for each therapy," explains Modality Solutions President Gary Hutchinson. "If correctly planned and executed to be included in the BLA, analytical results from samples exposed to concurrent transport simulation are considered industry best practice."
Modality Solutions' unique Advantage Transport Simulation Laboratory provides the engineering platform for a biopharmaceutical cold chain network to test drug product formulation development and stability better than any "real-world" shipping study in the marketplace.
Click here to download the Simulated Transport Methodologies White Paper.
With Modality Solutions, three types of firms–cold chain regulatory filing authority, logistics network operations, and experienced staffing firm combine as a single source for cold chain management integration for the life sciences industry.
To learn more about Modality Solutions, visit https://www.modality-solutions.com.
About Modality Solutions, LLC
Founded in 2011, Modality Solutions, a leading biopharmaceutical cold chain engineering firm, specializes in integrating cold chain operations, developing transport validation strategies, supporting global regulatory applications, and global clinical trial operations. By combining the best practices of process validation, systems qualification, and risk assessment, Modality Solutions has earned the reputation of ensuring regulatory compliance, drug product quality, and patient safety. As a 2019 Inc. 5000 company, Houston Business Journal Fast 100, Entrepreneur 360™, and Forbes Technology Council company, Modality Solutions' team of engineers are experts at delivering cold chain thermal packaging design and qualification, conducting transport simulation testing with its Advantage Transport Simulation Laboratory™, and designing controlled environment-logistics solutions. For more information, visit https://www.modality-solutions.com.