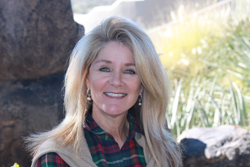 Fountain Hills, AZ (PRWEB) November 17, 2015
Karen DeGeorge, of Coldwell Banker Residential Brokerage, educates sellers on the top 5 things to not neglect when selling your home, stressing the importance of curb appeal.
No. 1: Do NOT ignore curb appeal. The first impression a potential buyer gets of your house is the front of the house. If the house looks shabby, the paint is peeling and the front yard is overgrown or in disarray, you might lose a prospective buyer before they even get out of the car. Keep the yard maintained and the front of the house inviting, otherwise viewers might get the impression that the inside is just as unkempt and will happily move on.
No. 2: Do NOT neglect the interior and fixing things that are broken. Once inside, a potential buyer can easily be driven right back out the front door if the house needs significant repair, as they will see this as more money they will have to spend to fix. Many repairs are small and can be done by the homeowner, such as loose handrails and doorknobs, torn window screens, leaky faucets, minor holes in the walls, etc. If making repairs is beyond your ability, hire a handyman before you show the house. Not neglecting the interior also includes getting rid of lingering odors, particularly cigarette smoke.
No. 3: Do NOT show a cluttered house. Remove excess items and furniture that make the house look cluttered. By doing this, you will create flow through the house and give a sense of a room's purpose. Additionally, potential buyers want to see how they will live in the house, not how you have lived in the house.
No. 4: Do NOT go overboard on the asking price. The goal of selling a house, in most cases, is to make a profit. However, asking for too much money, especially more than market value, will get you nowhere, and your house will just linger on the market. Trust your Realtor to ask for and get what your house is actually worth, as they know the market and what your home will sell for.
No. 5: Do NOT be your own Realtor. Hire a reputable Realtor with a proven track record to handle one of the most important transactions in your life. Don't just choose the first name in the phone book or the first Realtor's ad you see on a bus bench. Do your research, meet with more than one Realtor and ask friends who have sold their house for recommendations and referrals.
From 2010-2015, Karen has been the No. 1 agent for Coldwell Banker in Fountain Hills/Scottsdale. She is one of the most experienced agents in her area. Because of her attention to detail, more than 80 percent of Karen's business comes from referrals.
About Karen DeGeorge, Coldwell Banker
Karen DeGeorge is a member of the National Association of Realtors, Arizona Association of Realtors and the Scottsdale Association of Realtors. She is also a Previews Luxury Property Specialist and specializes in luxury and golf course property, new and resale homes and condos, vacation and second homes and investment properties in the Fountain Hills, Scottsdale, Cave Creek & Carefree, Paradise Valley, Mesa and Gilbert areas. For more information, please call (480) 225-3766 or visit the office at 13125 N. La Montana Blvd., Suite F, Fountain Hills, AZ 85268.
About the NALA™
The NALA offers local business owners new online advertising & small business marketing tools, great business benefits, education and money-saving programs, as well as a charity program. For media inquiries, please call 805.650.6121, ext. 361.