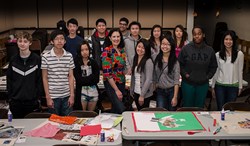 Through art, I seek to help my students discover themselves, their heritage and their future.
Philadelphia, Pennsylvania (PRWEB) November 27, 2013
For a half century, the Northeast Branch of the Philadelphia Free Library (2228 Cottman Avenue, Philadelphia, PA) has been serving a large, ever changing, diverse community. In honor of the library's 50th Anniversary, a group of high school students from Central High School are mounting an art exhibit "Celebrating Our Diversity" at the library under the guidance of artist and author Sally Wiener Grotta. The opening of the exhibit will be Wednesday, December 4, 2013, 1:00 to 7:00 PM; various prominent elected officials and other VIPs have promised to attend, starting at 4:00 PM.
ABOUT THE "CELEBRATING OUR DIVERSITY" EXHIBIT
The exhibit will be the culmination of six months of work and study, during which a few dozen teenagers studied with Sally Wiener Grotta, discovering their personal sense of creativity by creating collages. The works of art focus on the students' interpretation of their families' heritage and traditions. Some of the pieces that will be on display are literal narrative collages, featuring family pictures and documents. Others are more interpretive or abstract. Cultures represented include Afghanistan, the Ukraine, Great Britain, China, Pakistan and even New Orleans.
OTHER FESTIVITIES
In addition to the exhibit, the library plans various other activities celebrating the Northeast Philadelphia community.The following is the planned schedule.
On Wednesday, December 4:
4:00 PM: Meet some of our Elected Officials and enjoy birthday cake
4:30 PM: Performance of the "Lion, Umbrella and Ribbon Dances" from Holy Redeemer School
6:00 PM: Performance of "Bomple," a Puerto Rican Bomba and Plena music and dance group
On Saturday, December 7:
12:00 PM: Performance of Chinese music by Daniel Jiang
1:00 PM: Family Trivia with Bob. Bring the Family to play along and win prizes
4:00 PM: Mutya Filipino Dance programs
THE INSPIRATION FOR THE EXHIBIT
In November, 2012, artist/storyteller/author Sally Wiener Grotta mounted an exhibit at the library of her American Hands project (narrative portraits of traditional tradespeople, such as blacksmith, bookbinder, weaver, spinner, etc.) It was so well received that the administration of the library asked her if she would do another exhibit of her art for their 50th anniversary. Ms. Grotta declined the honor. Instead, she said, "We should do something that involves the entire community, celebrating the wide diversity of traditions and heritage that makes up the large neighborhood that your library serves."
To implement her vision, Ms. Grotta devoted one Saturday a month since last spring, teaching her young artists the basics of composition, color, shadow and light -- essentially, introducing and training them about art. Even teenagers who believe that their futures rest in the science or business discovered a kernel of creativity within themselves that has allowed them to design and execute inspired works of art. As Ms. Grotta said, "Through art, I seek to help my students discover themselves, their heritage and their future. I am very pleased and proud how they have grown in vision and understanding, and what they have created."