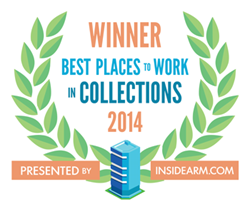 "ConServe focuses on Doing the Right Thing, The Right Way, at The Right Time."
ROCHESTER, N.Y. (PRWEB) October 14, 2014
ConServe has been selected as a winner in the coveted Best Places to Work in Collections three years in a row. This recognition program is the collaborative effort of insideARM.com and Best Companies Group. The Best Place to Work in Collections survey and award program was designed to identify, recognize, and honor the best places of employment in the accounts receivable management (ARM) industry. http://www.insidearm.com/features/best-places-to-work/. The first part of the survey consists of evaluating each nominated company's workplace policies, practices, philosophy, systems, and demographics. The second part consists of a confidential employee survey to measure the employee experience. The combined scores then determine the top companies and their respective final ranking. Marking its seventh year, The 2014 Best Places to Work in Collections list is made up of 35 companies divided into three size categories: Small (15-49 employees), Medium (50-149 employees) and Large (150+ employees). ConServe was awarded this recognition in the "large" group. A ranked list, complete with profiles of all of the winners, will be released in early December on insideARM.com.
"We're extremely proud to be recognized by insideARM again in 2014 as one of the Best Places to Work in Collections," said ConServe's President, Mark E. Davitt. "ConServe is the sum of all the actions of its employees every day. It is the people who make this company do as well as it does and they are the ones who have fueled our growth and success." Davitt continues, "ConServe focuses on doing the right thing, at the right time, the right way."
About ConServe:
ConServe has provided accounts receivable management services in the higher education field and has now positioned itself to be a preferred choice for Fortune 500 enterprises, commercial banks, retailers and the U.S. Government. Founded in 1985, ConServe has hi-tech Contact Center locations in both Rochester and Buffalo, New York, with its Corporate Offices at the Rochester location.
ConServe has been ranked consistently as a top-performing agency by the federal government and the U.S. Department of Education. Representing less than 1% of collection agencies nationwide, ConServe has achieved the ACA International Professional Practices Management System (PPMS) certification, representing the collection industry's standard for quality management. ConServe has been a recipient of the Rochester Business Ethics Award, repeatedly appeared on Inc. Magazine's 5000 fastest growing companies list, named a Rochester Top 100 company 11 times in the last 12 years and has earned the Greater Rochester Quality Council's 2013 Customer Excellence Award and the 2014 Operations Excellence Award.