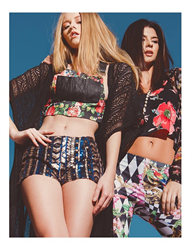 Los Angeles, CA (PRWEB) March 19, 2014
There's no better way to make an entrance than with a bold print, and GoJane carries an entire line of mixed print clothing with daring combinations.
"A dress that combines two or more dynamic prints is really a fun way to showcase your personality and your figure," says GoJane stylist and blogger Emily Devine.
In addition to bodycon dresses with florals, animal prints, stripes and paisleys, GoJane also offers mesh, midi and print dresses in similarly audacious pattern combinations to appeal to a wide range of tastes and preferences. For the woman who wants to leave a little more to the imagination, palazzo pants come in equally dynamic prints, but are less form fitting overall.
Cropped tops are another great way for on-trend young women to go bold.
"Cropped tops are fun, flirty and oh-so-summery," Devine says. "They're perfect for a day at the beach or a first date, when you may want to toy with him a little bit, but don't want to give too much away."
GoJane also offers both mixed print cropped tops and cap sleeve tops with pattern combinations including stripes, florals, animal prints, checks and grids. Rompers and jumpsuits are equally fun. For a more concentrated effect, GoJane carries mixed print sneakers and infinity scarves. Plus, these affordable pieces look great without leaving any residual wallet damage.
"The great thing about bold prints is that if you're bold enough to wear them, you can wear them however you like," says Devine. "Combining these patterns only increases their power."
To complete the look, shop GoJane for shoes, handbags and accessories.
GoJane is an online retailer of fashion-forward apparel for progressive young women. The website offers all of the latest trends in clothing and accessories for a fraction of the cost of designer brands. GoJane's helpful customer service team is available five days a week, and the store's 30-day return policy makes finding the right size fast, easy and worry-free.