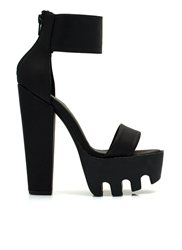 LOS ANGELES, Cali. (PRWEB) March 21, 2014
Platform heels are really the ultimate in daring footwear, and GoJane offers a wide selection.
"No matter what the style, a platform shoe commands attention – and gets it," says GoJane stylist and blogger Emily Devine.
In addition to pumps and wedges in a huge array of colors and styles, GoJane also carries booties, slip-ons and other footwear styles, meaning that GoJane literally has something for everyone. The more novice heel wearer will find jelly wedges, cork wedges and slip-on wedges, which offer a bit more support to make walking easier while building up to more outlandish footwear options.
Chunky heels and booties are another solid choice for ladies who want to gain height without breaking their necks.
"In a lot of cases, platform heels are really more art than shoe," Devine says. "Walking in these sky-high heels is an acquired skill."
But GoJane has plenty of radical options as well, like lace-up and heel platforms – and lace-up heel platforms. These shoes are made to be seen. GoJane also carries tons of platforms with fun patterns and materials to make the act of wearing platforms all the more wonderful and outrageous. And although feet may hurt afterward, wallets will not thanks to GoJane's highly affordable prices.
"Our platform shoes are really the centerpiece of any ensemble and are best paired with short skirts or shorts to further lengthen your legs and underscore the gravity-defying act that is wearing these shoes," says Devine.
To find the perfect platform shoe outfit, shop GoJane's selection of clothing and accessories.
GoJane is an online retailer of fashion-forward apparel for progressive young women. The website offers all of the latest trends in clothing and accessories for a fraction of the cost of designer brands. GoJane's helpful customer service team is available five days a week, and the store's 30-day return policy makes finding the right size fast, easy and worry-free.