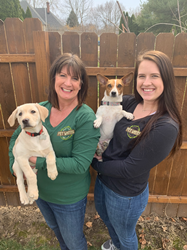 I'm looking forward to helping people understand what's in pet food and other pet products so they can compare it to Pet Wants and then make the best decision for their pets and their family. - Colleen Markwood
NOBLESVILLE, Ind. (PRWEB) March 31, 2021
After a career working with small businesses with a lifetime passion for pets, Colleen Markwood is pleased to announce the launch of her new mobile pet food and supplies company – Pet Wants Noblesville.
Pet Wants' specially-crafted, private-label pet food formulas are made in small batches with fresh, natural ingredients enhanced with vitamins and minerals for a complete and balanced diet in every bowl, all made in the USA. Pet Wants Noblesville has multiple blends of dog and cat food formulas as well as healing salve, calming balm, anti-itch spray, paw wax and more.
"I've been involved in the business community in Indianapolis for more than 20 years, but I was ready to strike out on my own, be a part of something bigger and get more involved in the community as a whole. Pet Wants allows me to use my passion for animals to help people provide the best care for their pets and to help them live happy, healthy lives," Markwood said.
Pet Wants has a money-back guarantee on the freshness and quality of the food, the company only sources the best salmon, chicken, lamb, brown rice and other ingredients available. There's no sugar added, no fillers and no animal by-products and Pet Wants never uses corn, wheat, soy or dyes, which makes the food great for animals with allergies. Pet Wants Noblesville is a mobile business that offers free, personal delivery to the north suburbs of Indianapolis: Fishers, Noblesville, Westfield, Zionsville, Carmel, Arcadia, Cicero and Sheridan.
Colleen and her husband, Dan have been married more than 25 years and they have two children. Her daughter Maggie will help with the family business and has a background working with animals from professional grooming to her current position as a Vet Tech. Throughout their marriage, Colleen and Dan have always had dogs. They lost their beloved Jeffery in 2019 and recently they have added a new member to their family with a Lab puppy named Gus.
"Jeffery left us too soon and I know we would have done anything to help him live a longer healthier life. Since welcoming Gus into our lives, we have realized that there are so many more options out there when it comes to food and treat choices, but there's no one to help you understand what's available on the market," Colleen said. "I'm looking forward to helping people understand what's in pet food and other pet products so they can compare it to Pet Wants and then make the best decision for their pets and their family."
To learn more about Pet Wants Noblesville, call 317-414-1661, email CMarkwood@PetWants.com or visit https://www.petwants.com/noblesville/.