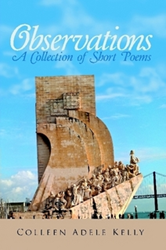 SOUTHBURY, Conn. (PRWEB) September 29, 2014
Poet Colleen Adele Kelly looks for inspiration in the day-to-day idiosyncrasies that make up her life. She has gathered these reflections about life, spirituality and current events into her poetry collection, "Observations: A Collection of Short Poems" (published by Lulu).
"Since my inspiration comes from many sources, including those society claims to be in the 'never talk about' category – religion and politics – 'Observations' could be briefly described as a collection of poems, some witty or humorous and others deadly serious," Kelly says.
Kelly discusses metaphysical concepts such as Zen beliefs. "Observations" is not just a collection of ethereal poems, however. Kelly tackles sensitive topics such as the tragedy at Sandy Hook and the war in the Middle East.
An excerpt from the poem "January":
"No ice cut from the river
In these recent years,
But every now and then
A fearsome wind and icy spell
Recreate the past.
Snuggled in warm layers,
The cold does not deter
My explorations as I venture forth"
"Observations"
By Colleen Adele Kelly
Hardcover | 6 x 9 in | 204 pages | ISBN 9781483414850
Softcover | 6 x 9 in | 204 pages | ISBN 9781483414836
E-Book | 204 pages | ISBN 9781483414843
About the Author
Colleen Adele Kelly is the author of three volumes of poetry: "As I Was Saying," "I've Been Thinking" and "Observations." She is an artist and photographer and a retired teacher.
Lulu empowers people of all ages to explore and express their interests, passions and expertise through books, photography and art. Since introducing self-publishing in 2002, Lulu has empowered creators in more than 225 countries and territories to produce nearly two million publications. Lulu Jr. allows children to become published authors, encouraging creativity, strengthening literacy and building self-esteem. Picture.com offers professional photography of collegiate and professional sports, memorable and historic events, fine art and home décor. For more information, please visit http://www.lulu.com.