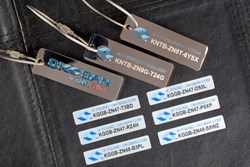 Now, with Okoban and mystufflostandfound.com any lost laptop or other valuable can find its owner. Often, the lost valuable finds the owner before the owner realizes the item is lost.
Atlanta, Georgia (PRWEB) August 20, 2013
As college students head off to school friends and family will spend considerable time, energy and money hoping to make the upcoming year as productive as possible. The following guide from Mystufflostand.com identifies what students really need and appreciate.
DORM ROOM IDEAS
College dorm rooms are notoriously small and boring. Things that improve this situation will be appreciated.
Anything that makes the room more comfortable and personal is good. A compact cushy chair, a futon, a nice desk lamp or desk chair are possibilities.
Space saving devices are a great idea. Things like under-the-bed storage systems or shelving (Google "Mini-Mantle") can help compensate for lack of space.
Lots of people send their kids off with a nice set of speakers but thinking in the opposite direction may be better. There will be lots of noise and music coming from other rooms so a good pair of noise canceling headphones may provide a much needed escape and even enable more study time.
MOVING DAY IDEAS
One fact of student life is that home won't be home for long. Most students move at least twice a year and often more. Anything that makes moving as painless as possible will be a great help. Practical items like a large rolling duffel bag can be worth it's weight in gold.
LAPTOPS
One informal study revealed that most students use a laptop mainly for word processing, Internet research, and watching TV. A high-end laptop could be a waste of money. Even a basic laptop will easily handle what most students need.
Statistics show that a shocking number of students will misplace and lose big ticket items like laptops, phones, tablets, cameras and more. One great idea to address this reality is to get students Okoban tracker tags online from mystufflostandfound.com. The tags are inexpensive and part of a global lost and found service that allows anyone who finds a lost item to quickly, securely and privately contact the owner with a recovery location. The owners personal information is not exposed and (unlike defacing items by scratching a phone number into them) can easily be updated as contact information changes.
GIFT CARDS AND MONEY
It makes sense to get many items locally after students have moved in. What will and will not be needed quickly becomes apparent after the move has taken place.
Gift cards to local stores, restaurants and entertainment centers will be appreciated.
Credit cards are safer than cash but even better are prepaid debit cards. They work like credit cards but there is less danger of overspending. Many can be conveniently reloaded online from home any time of day.
One innovative and practical idea is to give students a new wallet filled with a debit card, gift cards to local businesses and tickets to campus sporting events.
INSURANCE
There are many types of insurance available specifically designed for college students. The short list includes personal property, tuition, health, life, travel and auto insurance. Depending on a student's situation, any or all of these may be a good idea.
One good idea for all students (as well as their parents and friends) is to insure the best possible odds of getting lost valuables returned by using Okoban tracker tags from mystufflostandfound.com.
Okoban tracker tags and luggage tags connect finders with owners quickly, securely and privately, anywhere in the world. For just a few dollars, Okoban's global lost and found service adds protection and security for laptops, phones, keys, cameras, passports, credit cards, luggage and other valuables.
Finders simply enter the tracker tag's Unique Identification (UID) code and the recovery location on the Okoban website. The system then immediately notifies the owner (anywhere in the world by secure email and text message) where to recover the lost item.
"Now, with Okoban and mystufflostandfound.com any lost laptop or other valuable can find its owner," says Gordon Burns, CEO of My Stuff Lost and Found. "Often, the lost valuable finds the owner before the owner realizes the item is lost," says Burns.
My Stuff Lost and Found provides convenient worldwide online sales and service of Okoban's sturdy tracker tags for laptops, phones, tablets, passports, luggage, cameras, pets and other valuables. Mystufflostandfound.com is the online gateway to Okoban's tracking service for valuables and free global lost and found service for life (no annual fee). Purchase Okoban online at http://www.mystufflostandfound.com