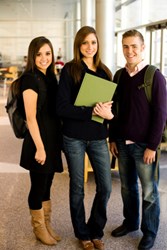 Portland, OR (PRWEB) September 24, 2013
Learn about College Majors and Training Programs, a new article published by career guidance leader Career Key, http://www.careerkey.org, helps youth and adults going back to college find the right information to make better career and education decisions.
In the article, nationally recognized counseling psychologist Dr. Lawrence K. Jones, NCC recommends eight ways students can learn more about college majors and training programs. Among them are:

Learning about the importance of making a close personality-major match; and
"Major Shadowing," following and observing a person in the major or training program.
Dr. Jones also suggests questions students might explore about a major and tips for understanding what a particular major means for academics and career preparedness.
Learn about College Majors is one of many self-help articles on the Career Key website, designed to guide people toward good career and education decisions. Similar education related articles include:

How to Choose a Major or Training Program;
Choosing a Career Cluster, Field, or Pathway;
Holland College Major Environments;
Find a College; and
What are Liberal Arts Majors.
About the Career Key
Since 1997, Career Key has been the #1 Internet source for helping people choose careers and college majors. Advertising and registration-free, it offers valid career tests and career and education advice articles based on the best practices and science in the field. Career Key's author is nationally recognized counseling psychologist, Dr. Lawrence K. Jones, NCC, Professor Emeritus at N.C. State University.