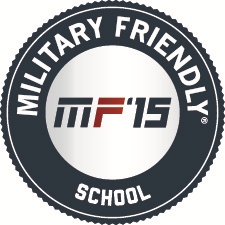 "We do whatever we can – we just step in and help."
Rocky Mount, NC (PRWEB) November 17, 2014
The accolades from national veteran's organizations continue to pour in for Edgecombe Community College in Tarboro, North Carolina. For the fifth straight year, the college has received the designation of being a Military Friendly® School for 2015 from Victory Media, Inc. For the second straight year, the college has been named a Top School in the Military Advanced Education Guide to Colleges and Universities research study. Also, ECC was ranked #14 in the nation in "Best for Vets: Career & Technical Colleges 2015" by Military Times magazine.
"We are honored to be recognized by these groups for the efforts that we've put forth," says Michael Jordan, vice president of student services. "We try to help veterans with a smooth transition from active military life to civilian life. These designations reinforce that we're doing it right, and we appreciate the votes of confidence."
About 130 veterans attend Edgecombe Community College.
"The college does a lot to support us," says veteran Theresa Telfor, who is studying health information technology at ECC and is slated to receive her associate's degree in May 2015. "When I first enrolled at Edgecombe, the college's veteran's affairs coordinator said she wanted to start a local veterans chapter."
Telfor, who spent 20 years in the Army and the N.C. National Guard before retiring in 2003, helped Edgecombe Community College establish a chapter of the Veterans Student Association of America, a national group that helps veterans succeed on college campuses. Telfor was elected vice president of the local chapter in 2013. In September, she was elected president and attended the organization's national convention in Washington, D.C.
"The national organization provides grants and scholarships for veterans," Telfor says. "At the leadership summit, they gave me the tools I needed to craft a business plan."
With a quality business plan now in place thanks to her efforts, Edgecombe Community College can compete against about 800 other chapters for grants and scholarships for veterans.
On Nov. 11, the Veterans Student Association hosted a Veterans Day Memorial and Recognition Ceremony to honor the many veterans on campus, both students and instructors. With a standing-room only crowd, members of the college community and visitors paid tribute to retired and active military for their "patriotism, love of country, and willingness to serve and sacrifice for the common good," ECC President Dr. Deborah Lamm said during the ceremony.
The Veterans Day event is just one way the college supports veterans. In October, members of the Veterans Student Association traveled to Greenville to participate in a Stand Down event, which provides services to homeless veterans in Eastern North Carolina. The event offers food, shelter, clothing, health screenings, VA and Social Security benefits counseling and referrals to a variety of other services, such as health care, housing, employment and substance abuse treatment, according to the VA website.
"We do whatever we can – we just step in and help," says Teresa Bottoms, the college's financial aid advisor/veterans affairs coordinator.
In December, veteran students are scheduled to return for the second consecutive year to the Durham VA Medical Center to perform at a holiday show for patients.
"It makes us feel good to be able to do something for fellow veterans," Telfor says. "It's very rewarding."
About the company:
Steady growth and expanding impact have characterized Edgecombe Community College as it has evolved from one small building in 1968 into a multi-campus institution with campuses in Tarboro and Rocky Mount, North Carolina. The college helped meet the educational and training needs of about 13,000 individuals in the community last year. This included the implementation of distance learning and online courses to reach students with travel and time barriers. Throughout, their strength is and will remain putting the needs of students first. For more information, visit http://www.edgecombe.edu/.