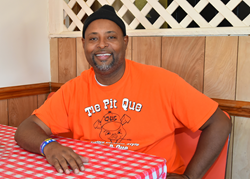 Rocky Mount, NC (PRWEB) January 13, 2015
When James Guilford lost his position as a mental health agency director in Pinetops, NC, six years ago, he struggled to find a new job in his field.
At the height of the recession, no one was hiring, he says, and he had to have income to feed his family. So, he started selling chicken and rib plates out of his home.
"We were selling a lot of plates," Guilford says. "We started getting more and more demand."
With no experience in the food service industry, he knew he needed guidance to continue to grow. He went to Edgecombe Community College's Small Business Center (SBC) in Tarboro, NC, in June 2010 and met with Ed Ormsby, SBC director.
"Mr. Guilford had a dream," Ormsby said. "I told him, 'If you're serious about starting a business, you have to have a business plan.'"
Over the next four years, Ormsby helped Guilford develop and fine-tune a business plan that eventually led to The Pit Que, an authentic barbecue restaurant that opened in Princeville in October 2014.
"He was laying out different options, and we were trying a little bit of everything," Guilford said. "To put everything on paper was very helpful."
The ECC Small Business Center is part of a North Carolina Community College System statewide network that is celebrating 30 years of providing support and assistance to small businesses and start-ups across North Carolina. Small Business Centers provide no-cost confidential business counseling and seminars to small business owners and entrepreneurs.
According to Ormsby, ECC's Small Business Center has 88 active clients. During the past year, the center helped open eight new businesses and created 13 new jobs.
"Those aren't big numbers," Ormsby admits, "but little numbers add up to make a big difference."
Businesses with fewer than 20 employees comprise nearly 90 percent of the 5.68 million companies in the United States, according to the U.S. Census Bureau.
Ginger's, a women's boutique in Tarboro, is among those small businesses. Owner Ginger Crisp also reached out to ECC's Small Business Center for expertise. A teacher at the time, Crisp wanted to open her own business to have more freedom to care for her daughter, who has special needs. She, too, sought Ormsby's guidance.
"He helped with a business plan, but I really didn't know what I wanted to do," Crisp said. "We tried several things, but nothing worked out."
After attempts to open a women's clothing franchise, a yogurt shop and a deli did not succeed, Crisp says she nearly gave up hope.
"I had gotten really discouraged, and one day Mr. Ormsby called me. I told him that I had decided not to do it. But he encouraged me not to give up. If he hadn't called me, I probably would have given up," said Crisp.
With renewed vigor, Crisp found a buying group to stock her boutique, and Ginger's opened in the fall of 2013.
"The Small Business Center has a lot of resources for people and a lot of material free of charge," Guilford said. "It also has someone with experience who can guide you and put you on the right path. For what the Small Business Center did for me, I'm very appreciative."
For more information on ECC's Small Business Center or to set up an appointment, contact Ed Ormsby at 252-823-5166, ext. 269, or ormsbye(at)edgecombe(dot)edu.
About the Company:
Steady growth and expanding impact have characterized Edgecombe Community College as it has evolved from one small building in 1968 into a multi-campus institution with campuses in Tarboro and Rocky Mount, North Carolina. The college helped meet the educational and training needs of about 13,000 individuals in the community last year. This included the implementation of distance learning and online courses to reach students with travel and time barriers. Throughout, their strength is and will remain putting the needs of students first. For more information, visit http://www.edgecombe.edu/.