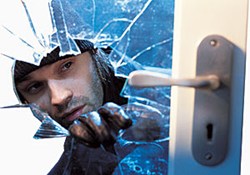 Statistics prove that college students are at high risk to experience a home invasion. Following these simple tips from the experts at alarmsystemreport.com will help students learn to prevent it from happening to them.
Chicago, Illinois (PRWEB) August 06, 2013
It may be summer break now, but in a few short months students across the country will be headed to college. For many students, it's the first time away from home, or the first time living in their own apartment, and while it may be the furthest thing from a student's mind, home security is of the utmost importance.
Burglary statistics show that college students are at a very high risk to experience a home intrusion, and unfortunately, home break-ins are becoming increasingly violent. Many college students don't consider having alarm or security equipment, but there are a number of DIY alarm systems that are inexpensive and easy to install, making them perfect for young adults.
The home alarm and security professionals at AlarmSystemReport.com, an alarm system review site, put together a list of home security tips for college students to keep in mind this fall.
1. Before purchasing home security equipment, it is advisable to speak with a professional from a company, even if a student plans to install the equipment themselves. A professional can help the college student assess points of vulnerability—for example, ground floor apartments with windows that are easily accessible from street level. This will help the student determine at least the bare necessities that are needed for security and protection, and will help them learn about alarm systems.
2. Determine the type of system to be installed. Since most college students are renters, the best type of system is usually a wireless alarm system or a DIY system. These systems don't require wires or other installation techniques that might permanently damage a rental property. Since college students frequently move, these types of systems are also a good idea because they can easily be removed and taken to a new location.
3. Systems that offering cellular monitoring are often a good choice for technologically-savvy college students. Most college students have busy and irregular schedules, so a cellular alarm system not only doesn't require the use of a landline, but it's also a way for the student to monitor their home when they're on-the-go. College students can also add additional features, such as surveillance cameras to a wireless system, and that can be monitored from a smartphone or other wireless device, as well. Not only will this type of equipment prevent against potential intrusions, but it will also deter nosy roommates.
About AlarmSystemReport.com
AlarmSystemReport.com is a comprehensive site offering visitors information about the alarm system industry. The site provides in-depth reviews and rankings of the top home alarm companies in the country, as well as pricing information and discounts and coupons that can save consumers as much as 35% on the cost of the installation of a home alarm system.