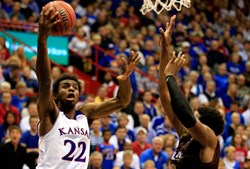 (PRWEB) November 23, 2013
Although all the hype has been placed around Andrew Wiggins, Jabari Parker, and Julius Randle as the best incoming freshman, other top players have been flying under the radar, and I mean flying.
According to Kevin Durant, sophomore guard Marcus Smart of Oklahoma State could play, and play well, in the NBA right now. This past Tuesday night, Durant watched Smart play as he performed in one of the best games of his career. Smart put up a whopping 39 points and helped lead his team to a 101-80 win over the Memphis Tigers. Not only is 39 points for one player in college hoops outrageous, but so is a score of 101. Not to mention, Memphis is not a bad team. The Tigers are currently ranked 11 in the AP poll, well, that was before their huge loss to number 7 Oklahoma State.
As far as the players who are under the radar go, they are there for a reason. Andrew Wiggins of Kansas is the most athletic player out there. He may not be the most skilled of the top three players, but he will be soon. Last week, Wiggins led his team to a 94-83 win over Duke and Jabari Parker. He had 22 points and 8 rebounds in the win. Wiggins and Kansas can be seen at home or on the road multiple days a week. Find your Kansas basketball tickets today at Ticket Monster to watch one of the greatest players in the game.
Jabari Parker of Duke is absolutely living up to his hype. He has had four straight 20-point games this season, and is continually leading his team to huge wins over their opponents. Parker is the most skilled and most adaptable player of the three. Last week, Duke squeezed past East Carolina to reach the NIT Season Tip-Off semifinals. The team was led by 30 points from Rodney Hood, while Parker had 21.
The last of the top three is Julius Randle of Kentucky. So far of his short career, Randle has posted a double-double in every game, and is the biggest key to the team's success. He may be dubbed the most talented player in college basketball right now, as his average stats are mostly better than Wiggins and Parker. He has the second most points, highest field goal percentage at 61.1%, and the most rebounds. He is also number one in multiple categories in his team.
As the season is just beginning, these players and their respective teams have may challenges ahead of them. Each team has multiple top teams to face, and a long way to go until the NCAA basketball tournament. Last year, Kentucky did not get a chance to compete in the bracket, but will make sure that does not happen again. Will these teams all face each other in the end, or will they be knocked out before getting that far. Find out and purchase your college basketball tickets at http://www.Ticketmonster.com.