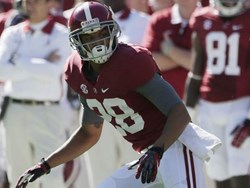 (PRWEB) October 04, 2013
For all the college football fans out there, good luck. Being a college fan is hard. Teams may be having a great season, then one loss occurs and they plummet ten spots in the AP poll. Being a college football fan is hard, and those who do it deserve credit. College fans pay a lot of money every Saturday to tailgate all day, watch their team play in what is most likely scorching heat, then race to the computer screen to see their ranking in the polls the next day. Tough life.
For Alabama fans, dropping in the ranking sorrow is not a normal occurrence, and the term "Roll Tide" was not created for no reason. The Crimson Tide were number 1 almost all of last season, won the BCS National Championship, and after week 4 in 2013, are still sitting in pretty on top. For other college fans, it does not matter how well your team does, who they beat, or by how many points. Until Bama loses, they are not budging.
In the past few years, Alabama football games have generated a lot of money. In November 2011, in a game that was being called the "Game of the Century," Alabama faced conference rivals LSU. Ticket selling website StubHub sold more than 5,100 tickets to the game, and at an average price of $639. Those teams were ranked 1 and 2, LSU being number 1, at the time, and then met again in the National Championship. The first game ended with an LSU win of a thrilling score of, 9-6. When they met again at the National Championship, that score was slightly different. Alabama took the title with an embarrassing score of 21-0.
This year, the "Game of the Century" was between Alabama and Texas A&M, the one team that defeated Alabama last season. According to TiqIQ, ticket prices for this game were listed at an average of $763, which beats the Alabama LSU game by about $60. This game was played at Texas A&M's Kyle Field in College Station, and after a 14-0 losing start, Alabama came back to win 49-42.
Conclusion: Football is football, right? Not to everyone is that the right answer. One would think NFL games are more popular among the general public, but others would disagree. College football is filled with exciting rankings, old historic rivalries, and crazy college fans. The general consensus is that college football tickets are less than an NFL game, and that may also not always be the case. For these games that show off huge rivalries and an end result that determines the team's season, college football prices can be just as much if not more than your average NFL game. Luckily, Ticket Monster has the best prices on the web for football tickets. Regular season game, SEC rematch, or BCS National Championship, Ticketmonster.com has it all. Visit the site now to purchase the cheapest tickets and enjoy a fan interactive website while there.