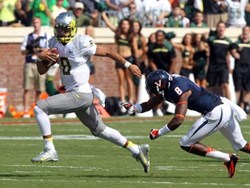 (PRWEB) October 12, 2013
Every week, the game matters. Doesn't matter the opponent, because anyone can win. Historically big games, or small, the competition does not matter. Players must give it their all on game day, because one fluke and a team can drop ten spots in the rankings. It's Saturday, it's game day, the pressure is on.
Key matchups for the weekend:
#2 Oregon at #16 Washington: This rivalry has existed for a long time, and the game has regularly been played since 1900. This game will be Oregon's first true contest on the year, and Washington is not going to let up. Beating the number two team in the country would be huge for the Huskies, and terrible for Oregon. A loss to the Ducks would most likely take away any National Championship dreams. Purchase your football tickets at Ticketmonster.com to experience the madness.
#25 Missouri at #7 Georgia: Georgia has had nothing short of an extremely tough schedule this year. They lost their first game to the Clemson Tigers, but managed to defeat South Carolina, LSU, and Tennessee thereafter. Although they get the wins, their young defensive line has been struggling, and today will be a big test for them. Georgia has allowed 30 or more points in four of their games this year, and Missouri's offense is deep. This SEC matchup is a huge game for both sides, as it will make or break their season.
#17 Florida at #10 LSU: Which team will come out on top of this exciting SEC showdown? No doubt about it, this game is going to include high intensity, with a dominant LSU offense and a strong Florida defense. LSU's offense, led by quarterback Zach Mettenberger, is averaging 45 points a game this season, while the Florida defense has not allowed 21 points in any of their last 13 league games. Each team has one loss, but two will ensure that they do not go to the National Championship.
Boston College at #3 Clemson: Although Clemson will not be playing a ranked team, it almost makes the pressure even higher. Clemson will be meeting the mighty Florida State next weekend, and if both teams go into the game undefeated, one team's dreams will fall. Florida State has a bye this week, so that leaves it up to the Tigers. Will they slip and fall like other years? Or will the Tigers prevail and bring College Gameday back to Clemson for round 2? Tickets are on sale at Ticketmonster.com for these two key ACC match-ups.
Ticket Monster is the #1 site on the web for college football tickets. Not only can fans find a seat to any game, but they can also get the ultimate fan experience at the site. An active blog keeps fans up to date on college football and the rankings, and a social media hub lets customers interact and engage with other users. Visit the site today to buy your college football tickets!