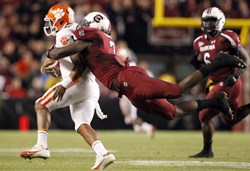 (PRWEB) November 29, 2013
The weekend after Thanksgiving marks one of the biggest rivalry weeks of the year in college football. The Saturday after Thanksgiving every year brings many intense in state rivalries, as well as out of state, such as Notre Dame and Stanford. These rivalry games have been played every year on this Saturday for years, and will continue to do so for many more. The following is a breakdown of some of the most heated rivalries in college football. Fans can purchase their college football tickets at Ticketmonster.com.
The arguably most important rivalry of 2013 will come down to this Saturday, and will feature two Alabama based teams. #4 ranked Auburn will host #1 and reigning BCS champs Alabama. This game is not only an in state rivalry, but will determine the #1 ranked team in the nation, as well as the winner of the SEC West. Fans can purchase their Alabama tickets or Auburn tickets today at Ticket Monster for the lowest prices on the web. Hurry up, these are going to sell fast!
Another hot in state rivalry and top ten matchup will encompass #10 South Carolina and #6 Clemson. This will be Clemson's third top ten contest of the season, and so far they are 1 for 1. Although Clemson has overall dominated this rivalry over the long term, they have not won a contest in the last four tries. With campuses separated by only 132 miles and their high BCS rankings at stake, this is going to be a blood bath that you do not want to miss. Find your Clemson-South Carolina tickets at Ticket Monster.
Although only one of these teams is ranked in the top 25 going into Saturday, this is a college football rivalry with many followers. Saturday brings the Ohio State Michigan game, and the #3 ranked Ohio State still has a lot to prove. A dominating win over Michigan could help their case, but being that Michigan is not ranked, it may not help by much. A loss to the Wolverines would seal their fate, however, of those that believe the Buckeyes do not belong in the top 5. This year the game will be played at Michigan, and will begin at noon. Ticket Monster has plenty of tickets to this heated rivalry, but buy them now, for these will go fast.
There is no better place than Ticket Monster for fans to find their college football tickets. http://www.Ticketmonster.com has Alabama tickets, Ohio State tickets, and many more. Fans that visit the site can find the lowest prices on the web, an active blog, and easy read schedules. Visit the site today for more information.