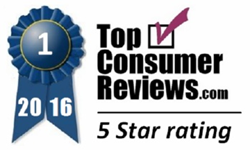 College can be expensive, but using BookRenter for your textbooks can make it much more affordable.
Overland Park, KS (PRWEB) July 27, 2016
TopConsumerReviews.com recently gave their top rating to BookRenter, a market leader among providers of College Textbooks.
Standing in long lines at the college bookstore trying to buy college textbooks can be a thing of the past. Increasingly, students are turning to online college textbook stores that provide competitive pricing on the same books found on campus. Many college students are even taking advantage of services that allow them to rent their textbooks, rather than buying them outright, which saves them both time and money.
"College can be expensive, but using BookRenter for your textbooks can make it much more affordable," according to Brian Dolezal, of TopConsumerReviews.com, LLC. "BookRenter makes it possible for students to buy or rent both used and new college textbooks at a fraction of the prices found in campus bookstores. With more than 5 million books available, students can easily find the books they need. BookRenter has created the simplest, most cost-effective way to get college textbooks, with flexible rental terms and low prices for buying new and used editions as well. With an A+ rating with the Better Business Bureau and many satisfied customers, BookRenter gets our highest ranking for College Textbooks in 2016."
To find out more about BookRenter and other providers of College Textbooks, including reviews and comparison rankings, please visit the College Textbooks Products category of TopConsumerReviews.com at http://www.topconsumerreviews.com/college-textbooks/.
About BookRenter
BookRenter founded the first textbook rental service in 2006 with a mission to make education more affordable by allowing students to rent textbooks for up to 80% off the retail price. BookRenter helps students find the best price, highest quality books, and most flexible rental experience through their campus store or online. Offering more than 5.5 million titles and serving millions of students on over 5,000 campuses, BookRenter has saved students more than $150 million dollars on their textbooks.
About TopConsumerReviews.com
TopConsumerReviews.com, LLC is a leading provider of independent reviews and rankings of hundreds of consumer products and services. From College Textbooks to Online Dating Sites and Student Loan Consolidation, TopConsumerReviews.com delivers in-depth product evaluations in order to make purchasing decisions easier.