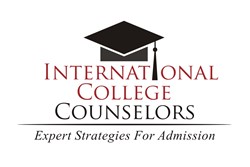 No later than 18 months before college, international students should begin the college process.
Miami, Florida (PRWEB) September 27, 2013
U.S. News & World Report released its 2014 Best Colleges rankings earlier this month, giving students and their family insight and data on nearly 1,800 colleges and universities. International students considering a U.S. education will find the information includes several points of particular interest to them, including highest average financial aid awards and available ESL programs. College advisors at International College Counselors encourage international students to review the list.
Eight top tips for international students considering a U.S. education from International College Counselors:
1. Start early. No later than 18 months before college, students should begin the college process. Time is needed to narrow down the list of schools, schedule any needed exams, and get supporting materials, such as a transcript or other class work, translated to English if needed.
2. Know each school's requirements. Colleges request lots of different things from each student, for example:

SAT/ACT test scores
Letters of recommendations from teachers
Official grade transcripts, mark sheets, or final grades sheets
Bank letter of credit attesting to solvency
Entrance essay
Application form
TOEFL scores (for students not educated primarily in English)
Application supporting materials
3. Keep track of each piece of the college application. Follow up with teachers, school administrators, the bank, or anyone else who is providing information for, or help with, the college applications. Make sure they know the deadlines. Follow up with them in a timely manner and do not let them miss their deadlines.
4. Provide translation. Most American colleges require a certified English translation of any documents not written in English, in addition to the original un-translated documents. This includes letters and transcripts and, if offered by a student's school, the predicted grades for the IB or A Levels.
5. Prepare well for the standardized tests. Test scores do count. American colleges use ACT and SAT scores to understand how one student compares to another student. Looking at grades and understanding a school experience is much more difficult if admissions officials are unfamiliar with a school. The admissions team is familiar with the exams and, if the scores are high enough, a student can prove that he or she is capable of college work.
6. Do in-depth research. There are over a thousand colleges across the U.S. Students can narrow down their list by exploring multiple channels, including college websites and social network sites. Through research, a student will find certain schools will meet even the highest needs and expectations while others fall short.
7. Choose the "best fit" school. The right school matches all of a student's needs: learning style, environment, location, study areas of interest, sports, and demographics of the other students. If multicultural competence within campus student services or an active Asian student population is important, a student should look into what each college has to offer. Stress can become an issue if a student does not find the right support within their university environment. Students can do research on the Internet, contact the school, or speak with a college advisor like the ones at International College Counselors to best understand the specific personality and offerings of each school.
8. Work on presentation. One key to getting accepted to a top college is convincing the admission staff that you are a fit with the school's academics and philosophy. When deciding which schools to apply to, it is important to understand what makes that school unique and what type of student they are looking for. Being the student they are looking for will increase the chances of getting in. Take time writing the essay, organizing extra-curriculars, and proofreading. International College Counselors helps students best present themselves to individual schools.
International College Counselors currently work with students from countries that include Colombia, Venezuela, Mexico, England, and Brazil. For help from an experienced college advisor who can help a student in English or Spanish, please contact the expert college counselors at International College Counselors at 954-414-9986.
This year, college advisors at International College Counselors helped more than 200 students find, apply to and gain acceptance into the college of their dreams. The expert college counselors at International College Counselors are dedicated to helping students and their families successfully navigate the college application process.
ABOUT INTERNATIONAL COLLEGE COUNSELORS:
International College Counselors provides expert college counseling on undergraduate and graduate college admissions, financial aid, tuition, essays, and college applications to domestic and international students.
The college counseling and college coaching services are tailored to address the goals, needs, and dreams of each student. Mandee Heller Adler, founder of International College Counselors, is a graduate of the Wharton School at the University of Pennsylvania and also received an MBA from Harvard Business School. International College Counselors' achievements include being recognized as one of South Florida's Top 100 Small Businesses in 2012.
International College Counselors has offices in Miami Beach, Florida; Miami, Florida; Hollywood, Florida; Coral Gables, Florida; Palm Beach, Florida; Boca Raton, Florida; Medellin, Colombia and Caracas, Venezuela.