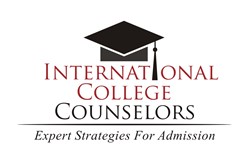 Even after the applications are in there are opportunities to put together the best case for admissions.
Miami, FL (PRWEB) November 26, 2013
For most high school Seniors, the college application season has come to an end. But submitting the application is not necessarily the end of the process, said Mandee Heller-Adler, founder of International College Counselors. There is still work that can - and needs - to get done by students who really want to get accepted to a favorite school.
"There's a lot of work to be done so students can present themselves in the best light possible," said Adler. "Even after the applications are in there are opportunities to put together the best case for admissions."
1. Check the status of your application to make sure the Colleges have everything they need. It is the applicant's responsibility to check their application status to ensure that each School has received all documents. This includes transcripts, letters of recommendations and any other supporting materials. Some schools allow students to check their application status online. Check the colleges' websites for information. If you cannot check application status online, call the School to confirm that they have what they need.
2. Apply for scholarships. There are scholarships for just about every possible interest, family situation, personal trait or talent, including ethnicity, religion, community service, veteran status, twins, children of single parents, creativity, left-handedness and more. The scholarships with large dollar amounts are typically extremely competitive. Apply for some scholarships with smaller dollar amounts, they add up. Apply to many scholarships. The more you go for, the more chances you have to receive.
3. Send in additional information that is worth sending. These can include improved SAT or ACT scores, new honors or awards, a faster time or other sports achievement, a new internship or research responsibility, and a new leadership position in a group or team.
4. Continue studying & doing well in school. Colleges look at a student's entire high school academic record when making admissions decisions. They can ask for grades at any time, even after a student has been admitted.
5. Check with your school to know your exact graduation requirements, including courses, minimum GPA, and necessary community service hours. You must meet your local district requirements to graduate. Different colleges, especially the most competitive ones, may have additional requirements for applicants. Research these requirements are make sure they are met. Online courses can help close some gaps.
6. Prepare thoroughly to pass any Advanced Placement, International Baccalaureate, SAT Subject exams or others that schools will be looking at and considering. You must take and pass the AP test in order to receive college credit.
7. Check your email to see if your College contacted you. This is the way schools communicate to let you know if they need additional information or if a student has been accepted or denied.
8. Demonstrate interest or enthusiasm for your favorite colleges. This can be done by visiting the school again (or for the first time), meeting with faculty members, sitting in on a class, attending any regional events that the school might host, checking out blogs and linking to the school via online media are all good ways to demonstrate to the admissions committee that you are truly interested in attending. These actions can also help a student make a better informed decision on which school to attend.
8. Enjoy senior year! It goes by so fast.
"All the work will appear most worthwhile when students get their acceptance letters, especially ones from their top choice list," said Mandee Heller-Adler, a college counselor and founder of International College Counselors.
This year, college advisors at International College Counselors helped more than 300 students find, apply to and gain acceptance into the college of their dreams. The expert college counselors at International College Counselors are dedicated to helping students and their families successfully navigate the college application process.
For help from an experienced college advisor who can help a student in English or Spanish, please contact the expert college counselors at International College Counselors at 954-414-9986.
ABOUT INTERNATIONAL COLLEGE COUNSELORS:
International College Counselors provides expert college counseling on undergraduate and graduate college admissions, financial aid, tuition, essays, and college applications to domestic and international students. College advisors at ICC currently work with students from countries that include Colombia, Venezuela, Mexico, England, and Brazil.
The college counseling and college coaching services are tailored to address the goals, needs, and dreams of each student. Mandee Heller Adler, founder of International College Counselors, is a graduate of the Wharton School at the University of Pennsylvania and also received an MBA from Harvard Business School. International College Counselors' achievements include being recognized as one of South Florida's Top 100 Small Businesses in 2012.