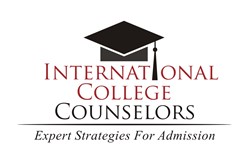 It is important to note that different admissions directors seek different things. Be the best you, you can be.
Miami, Florida (PRWEB) October 29, 2013
Early admissions applications are typically due in October and November – meaning now. Regular admission applications are due to most schools between January 15 and February 1. Students working on any college application typically want to know which part of it carries the most weight. The reality is, applications have many parts, and no one part will get a student into a college. The application needs to work as a whole, showing off a student's particular mix of qualities in the best way possible. Colleges want a range of students to create a diverse campus community, according to the college experts at International College Counselors. This means, the part of the application that carries the most weight will differ for each student.
Course rigor. Take classes that are a challenge, including AP and IB, when possible. If a student takes classes that are all easy, this will not be very impressive. Students need to challenge themselves but not to the extent they are hurting themselves grade-wise.
High school grades. Grades count and schools look for students who have challenged themselves and expressed a passion for learning. Have you heard that classic question, is it better to get an A in a regular class or a B in an AP class? The real answer is it is best to get an A in an AP class.
Test scores. At some highly selective colleges, SAT or ACT tests are very important. There are test optional colleges, meaning test scores don't matter. However, your test score should be consistent with – or exceed – your high school performance. At all schools, high test scores are not all a student needs to get in.
Extracurricular activities. Schools are looking for commitment and impact in the activities a student chooses to spend time in. This means choose quality over quantity. Admissions officers are not so interested in hearing about passions, they want to see them proven! It is better to be highly involved in one to three activities and/or sports over a number of years, than less involved in many activities. Once a student finds the activities he or she wants to focus on, the next step is to work on becoming a leader or to demonstrate initiative.
College essay: The college essay gives admissions officers the opportunity to know who a student is and how he or she might contribute to the college campus. It also gives the admissions team a chance to learn something about a student that they won't find elsewhere in the application. Admissions teams tend to prefer thoughtful, authentic essays that show real interests and passions combined with complicated thinking and good writing.
Recommendations. The best recommendations come from individuals who really know the student. They should offer detailed information and-or personal stories about the applicant that back up the information on the application.
Demonstrated enthusiasm: If a school admits a student, it looks good for them if that student attends. Students can prove they are serious by attending a campus visit and an interview, by attending an information session, and-or meeting with the college rep at a college fair.
Personal characteristics. Schools are looking for a student body with diversity. If you are an applicant with an unusual geographic location, culture, ethnicity, economy or political sensibility, you may move to the top of the acceptance pile.
Special talents or abilities. Students who do something extraordinarily well do gain an edge in the college admissions process. A special talent or ability can be anything including performing or visual arts, athletics, science, math or writing. Colleges will look for evidence of a student's accomplishments through recognition from others (i.e. awards, scholarships). They may also look for significant contributions that show the student's depth of commitment and follow-through. (i.e. newspaper articles)
"It is important to note that different admissions directors seek different things. Some colleges look for students who are well-rounded, with a wide assortment of extracurricular activities, others give preference to those who have displayed a sustained passion for something," said Mandee Heller Adler, founder of International College Counselors.
"Be the best you, you can be," she added.
This year, college advisors at International College Counselors helped more than 200 students find, apply to and gain acceptance into the college of their dreams. The expert college counselors at International College Counselors are dedicated to helping students and their families successfully navigate the college application process.
For help from an experienced college advisor who can help a student in English or Spanish, please contact the expert college counselors at International College Counselors at 954-414-9986.
About International College Counselors:
International College Counselors provides expert college counseling on undergraduate and graduate college admissions, financial aid, tuition, essays, and college applications to domestic and international students. College advisors at ICC currently work with students from countries that include Colombia, Venezuela, Mexico, England, and Brazil.
The college counseling and college coaching services are tailored to address the goals, needs, and dreams of each student. Mandee Heller Adler, founder of International College Counselors, is a graduate of the Wharton School at the University of Pennsylvania and also received an MBA from Harvard Business School. International College Counselors' achievements include being recognized as one of South Florida's Top 100 Small Businesses in 2012.