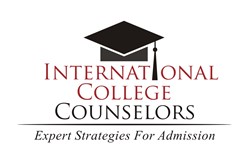 Many parents who thought they earned too much to qualify have been happily surprised by financial aid.
Miami, FL (PRWEB) January 30, 2014
Now is the time to fill out the Free Application for Federal Student Aid, more commonly known as FAFSA. All high school students who plan to attend college in the fall and their parents should be filling out the FAFSA. Some states have deadlines for the application as early as March. Colleges also have different FAFSA application deadlines.
"Students are strongly advised to check with their colleges' priority financial aid deadlines," said Mandee Heller Adler, CEO of International College Counselors.
Get the applications in as early as possible because some need-based aid is awarded on a first-come, first-served basis, recommend the expert college advisors at International College Counselors.
The FAFSA is used to determine eligibility for federal grants, loans and work-study funds from the federal government. In addition, many colleges and states use FAFSA information when determining eligibility for institutional and state financial aid programs. A number of other scholarships require the FAFSA as well.
"It's a pain well worth it. Many parents who thought they earned too much to qualify have been happily surprised by financial aid. You won't get any money if you don't fill out the form," said Adler.
The FAFSA is available in both English and Spanish at https://fafsa.ed.gov.
Some advice when filing for financial aid:
Fill out the FAFSA ASAP
Although the FAFSA deadline for the 2014-15 academic year is not until June 30, 2014, a desired college's deadline may be sooner. Chances of collecting the maximum amount of FAFSA financial aid diminish as more time goes by. Many schools work on a first come, first serve basis when it comes to financial aid.
Finish Taxes Early
Most of the information FAFSA requires comes directly from a family's tax returns. If the 2013 tax forms are not completed for whatever reason before some schools' February deadline, parents can use last year's tax returns and pay stubs from December 2013 to estimate their earnings.
Save time and reduce error by using the IRS Data Retrieval Tool. It allows the user to automatically transfer the required tax information to the FAFSA. The 2014-2015 Tool will be available on Feb. 2nd.
If an estimate is used, the form will need to be updated once the 2013 taxes have been submitted. This action will increase the chances of receiving the most money. The IRS Data Retrieval Tool can be used to make a FASFA correction.
Do Not Report Retirement Assets
Do not include retirement assessments on the FAFSA. This can only ruin a child's chances of receiving financial aid. The form does not ask about assets from 401(k) plans, Individual Retirement Account, or 403(b) plans – only non-retirement assets. Give them what they ask for and no more.
Report Any Unusual Information
Higher Ed institutions and the government understand that financial situations can unexpectedly change. Because of that, families have the ability to appeal to a college to adjust their financial aid after submitting the FAFSA. This means if a parent is laid off or facing an expensive medical bill, it should be reported. If earnings reported on a tax return will likely not recur the following year, also make sure the college's financial aid office knows this. Unexpected money may include a rare bonus or winnings from a game show.
Don't Inflate Education
Rumors are that some schools will give applicants extra credit if they are considered "first-generation college students." Given this, parents who never graduated from college should select "high school" as their highest education qualification.
Make Sure the Right Person Fills Out the Right Information
If parents are divorced or separated, the right parent needs to fill out the financial aid form. The parent responsible for filling out the form is the one a student has lived with for the majority of the year, even if the other parent is the legal custodial guardian.
Check and Double Check Everything
Make absolutely, positively sure no answers were left blank or lines left unsigned. Enter a zero or N/A where appropriate if the question does not apply. Make sure everything is spelled correctly and numbers are accurate. Check and double check the FAFSA before it's submitted. Errors will slow the FAFSA process and lower the aid.
Keep Records
When filing forms, keep a copy of the form that is being submitted as a record.
ABOUT INTERNATIONAL COLLEGE COUNSELORS:
This year, college advisors at International College Counselors helped more than 300 students find, apply to and gain acceptance into the college of their dreams. The expert college counselors at International College Counselors are dedicated to helping students and their families successfully navigate the college application process.
For more information on International College Counselors or to contact an expert college counselor, please visit http://www.internationalcollegecounselors.com.