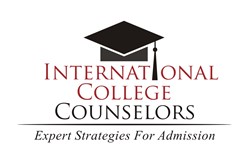 It's never too late to prioritize your goals and work towards achieving your higher education dreams.
Miami, FL (PRWEB) December 31, 2013
The New Year is a great time to make resolutions that will improve personal growth. If you're a student looking at ways to make the transition to college easier, International College Counselors offers a few resolutions that can help.
1. Stop procrastinating. Stop underestimating how much time it will take to get something done. One motivation is to visualize the sadness that followed when there wasn't time to do the best that could be done. At some point, the procrastinator has to write four college essays in one night – on top of completing schoolwork. Usually, this doesn't turn out so well. When a project is finished earlier than thought, celebrate being ahead.
2. Commit to getting good grades. For the majority of students, good grades are entirely necessary to get into a good school. In the best-case scenario, a student maintains good grades throughout his or her high school career. However, if the grades started off badly and then improved, colleges give points for this. If grades are too low or show a steady decline then a student is in real trouble. Spending a night studying while friends go out may not be exciting, but the path to college needs to be looked at with a long-term perspective. Grades are a bridge. They serve to get a student into a college where there will be more freedom. In college, grades may not be as important as in high school.
3. Don't do it all. It's better to concentrate on a few things and excel in them than join every sport, activity and club that can be crammed into a schedule. Anyone can join 10 clubs and be marginally involved in them all. Schools are looking for commitment that shows willingness to stick with something and make the most of it.
4. Keep a calendar. Deadlines creep up quickly. The closer the date, the higher the pressure. Most students don't do their best under pressure. And colleges, scholarships, federal aid, and standardized testing services are not going to be sympathetic to any excuse about missing a deadline. If a deadline is missed, so is an opportunity.
5. Take standardized tests early. No one knows how high their score can go until they take the test. Wait too long and there won't be enough time to retake it. Many unexpected things can affect test scores on any given day, including the state of a student's health -- and it's impossible to plan not to get food poisoning. Taking the test early will also allow time to take a test prep course if necessary.
6. Do the research. Know what the choices are when it comes to colleges. This way any coulda, shoulda, woulda regrets can be avoided later in life. Research could be as simple as visiting a school's website.
7. Try something new. High school is a great time to spread those wings. It's about new experiences and self-discovery. Want a certain internship, there's no harm in calling up and asking if they have any room for an eager high school student to work there. Want to try a new sport or activity, go ahead and try it. Students not expected to leave high school knowing exactly what they want to do, but this is a chance to start narrowing down any interests. People never know what they like – or how good they are at something – until they give it a try.
8. Be excited about going to college. Whatever college a student attends there will be new people to meet, new things to learn, and great times to be had. That's reason enough to be excited no matter if the school attended is a first choice or a safety.
9. Do what the college counselor says. Students: We at International College Counselors are here to get you what you want out of life.
10. Banish the self-doubt. Fear of failure and doubting personal abilities only hold students back from achieving what they want to achieve. Just say no to these thoughts and others like them.
"It's never too late to prioritize your goals and work towards achieving your higher education dreams," said Mandee Heller Adler, expert college advisor and CEO of International College Counselors.
HAPPY 2014!
CONTACT INTERNATIONAL COLLEGE COUNSELORS
This year, college advisors at International College Counselors helped more than 300 students find, apply to and gain acceptance into the college of their dreams. The expert college counselors at International College Counselors are dedicated to helping students and their families successfully navigate the college application process.
For more information on International College Counselors or to contact an expert college counselor, please visit http://www.internationalcollegecounselors.com.