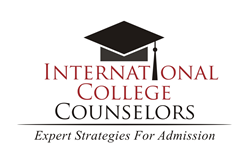 Four winning high school students will receive $250 college scholarships.
Miami, FL (PRWEB) April 01, 2014
International College Counselors is still accepting entries for its 2014 college scholarship competition. All high school students in grades 9-11 are invited to enter. Submissions must be mailed in and postmarked on or before May 1, 2014.
Students are asked to submit a 500-word essay that answers the question:
What advice would you give middle school students about achieving success in high school?
Essays can be written in English or in Spanish.
Four winning high school students will receive $250 college scholarships. All students in grades 9-11 are eligible to win.
Three scholarships will be awarded to students who attend school within Dade, Broward and Palm Beach County; and one to a student from outside the Florida tri-county area, including outside the United States.
This is the fifth year International College Counselors has been awarding college scholarships.
Work will be judged on the basis of originality and effectiveness of argument or presentation.
The contest rules and submission information can be found at International College Counselors. Select the "Scholarship Contest" section of the website under "About Us" for downloadable contest rules.
The International College Counselors High School Essay Contest established this Scholarship Fund to increase awareness of the value of higher education among high school students, as well as to give financial aid for tuition to college-bound students.
Good luck to all.
About International College Counselors:
This year, college advisors at International College Counselors helped more than 300 students find, apply to and gain acceptance into the college of their dreams. The expert college counselors at International College Counselors are dedicated to helping students and their families successfully navigate the college application process.
For more information on International College Counselors or to contact an expert college counselor, please visit http://www.internationalcollegecounselors.com.