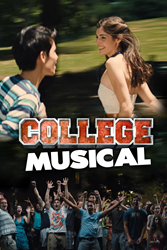 On Wednesday, September 3, 2014, "College Musical" will be pre-released in the first ever live stream YouTube premiere at 8PM PDT
Los Angeles, Ca (PRWEB) September 02, 2014
With less than 24 hours until the first ever YouTube live stream movie premiere, audiences from around the globe are at the edge of their seats anxiously waiting for the first feature film from Schneider. With 4.5 million subscribers and an impressive 925 million video views on his popular YouTube channel, Kurt has organically built a virtual viral empire that has landed him appearances on The Ellen Show, The Oprah Show, The Bonnie Hunt Show, Yahoo Front Page and The Wall Street Journal to name a few.
Kurt's frequent collaborator and former Yale classmate Sam Tsui, will star in the film alongside Allison Williams (Marnie Michaels) of HBO's Drama Series, "Girls." You may recognize Tsui from his appearances on NBC's "The Sing Off," or FOX's "American Idol," where he served as a Host and Correspondent, or from his viral YouTube videos which have garnered over 500 million hits worldwide.
In addition to Tsui who played "Cooper" and Williams whose character role was "Bianca" in the film, other notable cast members include: Julie Shain (Jackie), Miles Jacoby (Nate), Emma Barash (Danielle), David McIntosh (Man Child) and Brennan Caldwell (Lubo).
On Wednesday, September 3, 2014, "College Musical" will be pre-released in the first ever live stream YouTube premiere at 8PM PDT, followed by its official commercial release, making the film available on Netflix, Google Play, On Demand and iTunes.
Additional Info:
"College Musical" started as a YouTube short-form video series back in January of 2009, and was initially produced and directed by Schneider. The following year, Kurt and his college roommates/ "College Musical" Co-Producers, Andrew Johnson and Jake Bruene, conceived the idea to turn the series into a feature film. The film was shot on a prestigious university campus in July of 2010 with a cast and crew of 65, funding from Peter Schneider Productions, and official production by NoodleHouse Studios. The Director of Photography was Chris Ripley the film was edited by Brian Capri. T.J. Smith, John Wu, Kat Lau, and Michael Schneider were amongst those credited on IMDB for their production, assistant production, and co-production of the film.
The "College Musical" screenplay was written by Jake Bruene, and the original music/ movie score was composed by Andrew Johnson and Kurt Schneider.
For additional information on "College Musical," or for media requests, please contact Dani Thompson of DNT Entertainment at danithompson(at)dntagency(dot)com or by phone 714-496-5152.
Film Trailer: https://www.youtube.com/watch?v=zUP3NPf-57Y