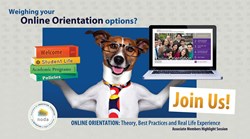 The theory is that an online orientation doesn't replace the on-campus events. In fact it better prepares the student with the basics so the on-site orientation is more productive because there's more time spent with faculty, advisors and course selection
Jacksonville, FL (PRWEB) November 12, 2013
Advantage Design Group announces record attendance at their NODA conference Associate Member Highlight Session. The session was held on November 4, 2013 during the National Orientation Directors Association (NODA) annual conference in San Antonio, TX. The topic: Online Orientation: Theory, Best Practices and Real Life Examples, attracted a standing room only crowd of over 50 conference attendees to the session.
On the agenda was a Q&A session featuring guest speaker Justine Kelly-Fierro, Assistant Director of Student Affairs at New York University Steinhardt School of Culture, Education, and Human Development. Ms. Kelly-Fierro spoke to why the university decided to do an online orientation and the process taken to accomplish their goals for the program.
Participants learned of challenges faced such as – how to make a college orientation software program personalized, interesting and engaging for students, while maximizing information tracking capabilities and the experience as a school branded effort. Ms. Kelly-Fierro also shared how their university was able to overcome these common concerns.
"We wanted to be sure to capture our community story to accurately reflect the warmth of our culture while also providing important information." said Ms. Kelly-Fierro, Assistant Director of Student Affairs, NYU Steinhardt School of Culture, Education, and Human Development. "And we wanted a content management system to support the longevity of the project."
The theory behind implementing an online orientation was discussed in terms of benefits to students and the school. Also, the top 6 best practices were outlined for participants before and during a live demonstration of New York University Steinhardt School of Culture, Education, and Human Development's finished product.
"The theory is that an online orientation doesn't replace the on-campus events. In fact it better prepares the student with the basics so the on-site orientation is more productive because there's more time spent with faculty, advisors and course selection," said Sam Swingle of Advantage Design Group. "And the best practices we share center around a good process, engaging video production and content, trackability, and easy content management – to name a few."
As a member of the NODA organization, Advantage Design Group plans to continue sharing its knowledge and experience on this topic. In a recent survey conducted by the nations' largest college, Miami Dade College, which uses the Advantage Design Group online orientation solution, more than 88% surveyed agreed or strongly agreed that they are better prepared to start their college career after reviewing the online orientation.
"Over 75% of our incoming students completed the online orientation in the first week it was available – compared to only a third of the students that would be registered this early using our previous methods." said Ms. Kelly-Fierro, "This helped us better prepare for the students by knowing what classes were filling up and gave the advisors a lot more time to review what each student had registered for to make sure they had selected the appropriate classes."
All indicators point to continually increasing interest for online orientations among higher education institutions. Advantage Design Group is poised to assist educators with what they need to determine if an online orientation is right for their school and if so, what kind is the right fit.
For a complimentary copy of the session recording which includes the six best practices for creating your online orientation, email sam(at)advantagedesigngroup(dot)com Advantage Design Group.
About Advantage Design Group
Advantage Design Group is a multi-media design and development firm based in Jacksonville, Florida with 15 years of experience in developing interactive campus maps, virtual tours, microsites, videos, print, touch screens, college online orientations, and interactive informational presentations for recruiting fairs, direct mail and fundraising. Advantage Design Group is recognized as a top 10 advertising and marketing agency in the Jacksonville Business Journal's 2012-2013 Book of Lists. They have done online orientations and other school related projects for over 100 educational institutions across the country including NYU Steinhardt, Miami Dade College, Palm Beach State College, Embry-Riddle, Rutgers University, Purdue Calumet, the University of Florida, and Auburn.