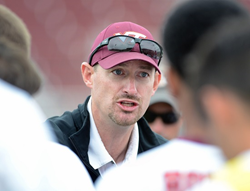 By being a part of our camps, you get the opportunity to improve your skills and experience top notch facilities.
San Rafael, CA (PRWEB) April 18, 2017
Joined by many coaches and players from other schools in the East, Virginia Tech Men's Soccer Head Coach, Mike Brizendine, helps to prepare campers for a higher level of competition. The on-campus program provides youth campers a glimpse into a collegiate athlete's day to day life.
"By being a part of our camps, you get the opportunity to improve your skills and experience top notch facilities," states Renee Chapman, National Manager of the Nike Soccer Camps. "Our reviews speak for themselves regarding the value our camps provide."
The camps at Florida State University, University of Minnesota, and University of Georgia designed for male athletes ages 10-18 who are looking towards playing soccer at a higher level and want to fine tune their skills with this goal in mind.
Brizendine has built an incredibly sound camp program that is proven for success. Campers continue to return year after year, and each year the camp reaches capacity. The daily schedule includes training on soccer fundamentals such as attacking and defending, combination play, counter attacks, zones and finishing, and pressure-cover-balance. Campers have the opportunity to play small sided games to put their new skills into practice. This allows them to really break down the game for full understanding, while simultaneously learning to play at a faster pace. There are special programs for goalkeepers and field players alike, and campers have the option to attend for the day or stay overnight in the student dorms.
Registration is still open, however space is limited and camps fill quickly. Please visit http://www.ussportscamps.com/soccer/nike/day/ for the dates, prices and to register for camps, or call 1-800-NIKE-CAMP.
About US Sports Camps, Inc.
US Sports Camps (USSC), headquartered in San Rafael, California, is America's largest sports camp network and the licensed operator of Nike Sports Camps. Over 75,000 kids attended a US Sports Camp program in 2015. The company has offered summer camps since 1975 with the same mission that defines it today: to shape a lifelong enjoyment of athletics through high quality sports education and skill enhancement.