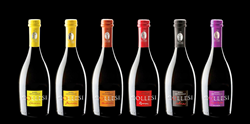 Las Vegas, Nevada (PRWEB) June 09, 2015
Emerging craft brewer Tenute Collesi was recently awarded six medals--four gold and two silver--by the highly prestigious Beverage Tasting Institute in Chicago, Illinois, America's oldest international beer competition. The tasting competition took place on May 6 and saw Collesi collect top prizes for its Bionda, Rossa, Nera and Malto beers.
Gold Medal Winners at this year's World Beer Championships included Collesi's Bionda, Rossa, Nera and Triple Malto beers. For its mild aromas of honeyed apples and banana chips with a supple, crisp, effervescent, dry-yet-fruity light-to-medium body, Collesi's "Bionda" beer received a top award in its class. The "Rossa" brew, a solid Belgian amber with solid table appeal, also took the Gold, as did the "Nera" and "Triple Malto" varieties. Collesi's Nera, a clear medium brown color with bright, fruity aromas of berry vinaigrette, caramelized nuts, and fruitcake with a soft, bright, effervescent, fruity sweet medium body, is considered a "rich hearty ale" by the Beverage Tasting Institute. Finally, the Malto, with its tingling, charming, snappy stone fruit compote, watercress, and delicate peppery spices finish, rounds out the Grand Slam of four Gold Medals.
Also finishing in the medals were Silver Medal Winners "Chiara" and "Ambrata." These fine craft beers compliment each other all while offering a juxtaposition. While the Chiarra is light and refreshing, reminiscent of salad greens, the Ambrata offers a darker tone, resembling Brazil nuts and honey. Both beers accomplish their goal while offering a clear distinction for the distinguished tastes of Collesi's prized customers.
The Collesi brewery, located in the Marche region of Italy, is the labor of love crafted by Giuseppe Collesi and Roberto Bini, who together are taking Collesi beers to every part of the world – from the United States to Japan, from Russia to Northern Europe – in their constant and continuous effort to brew and sell the best tasting beers anywhere. Master brewer Marc Knops of Belgium has helped Collesi create some of the finest tasting beers on the market today.
The secret to Collesi's success is an approach to craft brewing that emphasizes high quality over mass production. Rather than focusing exclusively on sales, Collesi's business philosophy caters to a discerning set of clients who recognize the value of a fine beer. As a result, Collesi has positioned itself to become a top-seller among high-end craft beer retailers. Products made with artisan care and attention, show the characteristics of quality that only respect for our traditions can guarantee. Collesi beers and distillates are produced following these guidelines, which for Collesi are an essential premise, and also the motives for their growing success.
Collesi's strategy centers on the offer of an ample and varied choice of beers and distillates of extremely high quality, made using rigorously selected ingredients, production processes that fully conform to artisan traditions and advanced human and technological resources. The objective, successfully achieved so far, is the greatest possible satisfaction of Collesi's attentive and demanding customers, who find in the company's beers and distillates the ideal response to their high expectations. Collesi brewery and distillery can be seen online at http://www.collesi.com and their craft beers and wines can be found at finer restaurants and select retailers around the world.