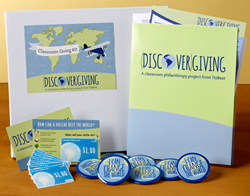 By giving these kids the chance to explore what it feels like to give and make a difference, they are each one step closer to becoming powerful forces of good in the world.
Seattle, WA (PRWEB) January 30, 2014
TisBest Philanthropy announced today that 10 classrooms in the Philadelphia area will have the opportunity to experience donating to charity using TisBest's new philanthropy education program, DiscoverGiving, thanks to the sponsorship of the Philadelphia office of Colliers International. Colliers has sponsored 10 Classroom Giving Kits, which brings the hands-on DiscoverGiving program to Philadelphia classrooms at no cost to the students or school.
DiscoverGiving is an innovative classroom philanthropy project from TisBest that helps teachers deliver philanthropy education to elementary school students using a research-based curriculum that gives students the opportunity to practice the prosocial behaviors of altruism and generosity. The core lesson activity uses TisBest Charity Gift Cards as a tool to give students a hands-on experience with philanthropy. Each student receives a prepaid $1.00 charity gift card which can be used to support one of more than 300 charities through the DiscoverGiving donation portal on the TisBest website. 100% of student donations are sent to the charities they choose to support.
"We are thrilled that Colliers has sponsored classrooms in Philadelphia," said TisBest Education & Charities Manager Karli Larson. "The DiscoverGiving program empowers students with the understanding that they can make a difference in the world. Sponsoring Classroom Giving Kits allows Philadelphia teachers to deliver the DiscoverGiving program in their classroom for free. Through this generous act, Colliers is able to impact the lives of more than 300 students, which will create a ripple effect of kindness as each student is able to donate their charity gift card to a cause they feel passionate about."
The DiscoverGiving program defines philanthropy as "sharing time, talent or treasure to create positive change." Students learn to identify what causes matter to them, such as animal welfare, hunger or disaster relief, along with concrete ways to make a difference in their communities. By donating a dollar to charity using a TisBest Charity Gift Card, students are able to reflect on why they chose the charity they donated to, and what it felt like to make a difference.
"We are committed to giving back to our Philadelphia community," said Colliers Senior Vice President Larry Bergen. Colliers International is the leading full-service commercial real estate organization, with over 12,000 worldwide employees. The Colliers Philadelphia office has deep roots in the Tri-State Region, with a 92-year history of service and community involvement in Pennsylvania, Southern New Jersey & Delaware.
"Sponsoring DiscoverGiving kits for classrooms is a small investment Colliers can make that will have an enormous impact in the community. By giving these kids the chance to explore what it feels like to give and make a difference, they are each one step closer to becoming powerful forces of good in the world," said Bergen.
TisBest encourages classroom sponsorship, and provides more information on the benefits of sponsorship, as well as details about the DiscoverGiving curriculum and materials, on the TisBest website. For tips about sponsoring a classroom, or for help finding a classroom in your community, contact Karli Larson, Education & Charities Manager, at karli(at)tisbest(dot)org.
About TisBest
TisBest Philanthropy is a 501(c)(3) nonprofit organization dedicated to fostering the growth of non-material gift-giving. TisBest created charity gift cards in 2007. Charity gift cards work like conventional gift cards, but with one important exception: the recipient of a charity gift card "spends" it by choosing a charity to receive the funds.
With a TisBest Charity Gift Card, you make the donation and your recipient decides how to spend the donation, choosing from TisBest's 300+ charity partners. TisBest cards are customizable at no additional cost, and have become increasingly popular as consumer and business gifts. Learn more at http://www.tisbest.org.
About Colliers International
Colliers International is a leading global commercial and residential real estate services organization defined by our spirit of enterprise. Our more than 13,500 professionals in 482 offices worldwide are dedicated to creating strategic partnerships with our clients, providing customized services that transform real estate into a competitive advantage. Colliers International in Pennsylvania, Southern New Jersey & Delaware focuses on accelerating our clients' success by seamlessly providing a full range of services to real estate users, owners and investors. Our professionals specialize in understanding our clients' unique business needs and offering customized real estate solutions. Learn more at http://www.colliers.com.