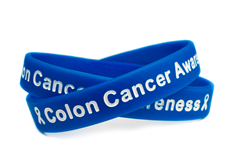 Chicago, IL (PRWEB) January 31, 2015
March is Colon Cancer Awareness Month. SupportStore sales and visitor statistics show that Colon Cancer is the most sought after awareness item in the entire assortment.
Of 150 awareness causes featured at SupportStore, more Colon Cancer related wristbands, car magnets and lapel pins are requested than any other cause.
Colon cancer (also called colorectal cancer) is the third most commonly diagnosed cancer and the second leading cause of cancer death in men and women combined in the United States. On average, the lifetime risk of developing Colon Cancer is 1 in 20. Treatment is most effective when colon cancer is found in its early stages with colonoscopy screenings, according to the American Cancer Society.
The preparation for and the procedure itself are dreaded by many, but the benefits far outweigh the hassle. The death rate has been dropping for 20 years, and screenings are considered a primary reason.
A Little Humor Goes a Long Way
The colon is one of those parts of the body that most people don't want to talk about. Yet if it stops working right, nothing good comes of it. One SupportStore wristband includes this message:
"Colonoscopies Save Lives – Get Yours Behind You"
This SupportStore-designed wristband features debossed letters, an awareness ribbon, and the rubber wristband is 100% silicon rubber and is individually packaged.
Creating Awareness for Colon Cancer Screenings
The official awareness color for Colon Cancer is blue. Other items used by clinics and individuals include:

Blue lapel pins
Blue car ribbon magnets with Colon Cancer Awareness messages
Blue stretch band with blue ribbon charms
Blue rubber wristbands with related messages
Blue embroidered ribbons that temporarily attach to clothing or items
Blue static cling decals for windows
Each of these items is available at SupportStore's Colon Cancer Awareness section, with bulk pricing and same day shipping.
About SupportStore.com
SupportStore is an online only retailer of items people and businesses use to "shout out what they care about."
Customers choose from 500 in-stock items that ship same day, such as a "Hope Courage Faith" green silicon rubber wristband or a green enamel on metal lapel pin. Customers can also choose to create a custom designed magnets in quantities of 125 or more, many delivering within 10 days.
With a total inventory of over 500,000 items, SupportStore can supply both consumer needs and businesses with products for fundraising events, awareness programs or memorials.
SupportStore was founded in 1999, has 7 employees, a warehouse in St. Louis, and enables buyers to donate a portion of health awareness item profits to charity.