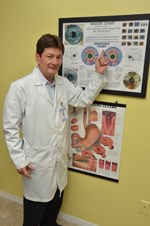 Corona, NY (PRWEB) February 12, 2014
To provide their patients with more knowledge and information about iridology, Van Uden Center recently began offering private information sessions. At these sessions, the professionals at Van Uden Center will discuss the benefits of iridology and other alternative healing methods.
Iridology is a technique where the iris is examined in order to determine information about a patient's health. Patterns, colors and other characteristics of the iris are observed. This information can lead to discovering an illness before it manifests in the patient's body, along with other determinations about a patient's health.
The Van Uden Center knows that patients may initially feel daunted when taking charge of their health. The amount of information is overwhelming, often contradictory and hard to sort out. However, iridology can set patients at ease. Iridology allows patients to see their entire body, including every organ and system, all at once.
Professional analysis by a clinical iridologist will reveal the source of any dysfunction in a patient's body; an audit trail of any past trauma or disease damage; and a patient's genetic inheritance, including strengths and weaknesses.
The Van Uden Center encourages patients to let iridology therapy reveal the problem lurking underneath the surface and wants to help them regain control of their body and their health. To schedule a one-on-one private information session, call Van Uden Center at 1-800-734-0709.
About the company:
Van Uden Center, located in New York City, combines the talents of Dr. Alfonso Van Uden and a team of professionals who specialize in the field of alternative medicine. With more than 25 years of experience, Van Uden Center is committed to providing their patients with the highest quality care. Their comfortable environment is designed to put all their patients at ease. The mission of Van Uden Center is to bring preventative and restorative lifelong health solutions to the whole body. They believe in providing essentials for a healthy body, both on the inside and the outside, using natural methods that are chemical-free and allowing the patient to take responsibility for their health. For more information, visit their website at http://vanudenny.com/.